Add to Cookbook

Classic pumpkin soup
30 minutes
In the slow cooker: low 5-6 hours, high 3-4 hours, plus extra 30 minutes
Makes 8-9 cups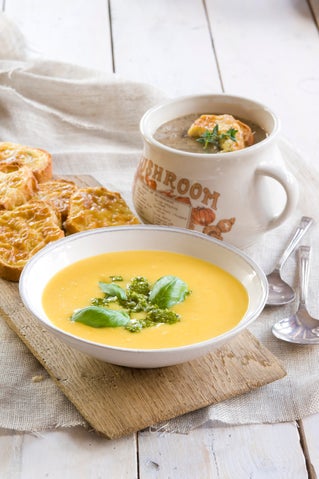 For good pumpkin soup, choose a firm-textured pumpkin such as crown or buttercup. Each autumn, I make up pumpkin soup in large quantities and then add in toppings like prawns, basil or tomato pesto, smoked chicken and so on to vary the soup when I serve it. Pumpkin soup is loved by most people, so use this classic recipe to make your own bespoke versions.
Ingredients
3-4 medium-sized floury potatoes, peeled and chopped
1.5 kilograms pumpkin, peeled and chopped
1-2 onions, peeled and chopped
2 teaspoons minced garlic
6 cups water
1 tablespoon chicken stock powder
2 tablespoons cornflour
1 cup cream, creme fraiche or sour cream
Method
Turn the slow cooker on to low to pre-warm while gathering and preparing the ingredients.
Into the slow cooker put the potatoes, pumpkin, onions, garlic, water and chicken stock powder. The water should cover the vegetables. Cover with the lid.
Cook on low for 5-6 hours or on high for 3-4 hours, or until the vegetables are tender.
Allow the soup to cool before carefully transferring to a food processor or blender and processing until smooth. Return to the slow cooker or a saucepan.
Mix the cornflour with the cream and stir into the soup. Cover with the lid and cook on high for 30 minutes or until the soup has thickened. If thickening in a saucepan on the stove, stir over a moderate heat for 4-5 minutes until thick and hot. Season with salt and pepper.
Serve in deep bowls with sour dough Parmesan croutons if wished.
Sour dough Parmesan croutons
Cut a loaf of sour dough bread into chunky pieces and toss with plenty of olive oil or melted butter and finely grated Parmesan. Scatter one layer onto a baking paper-lined baking tray and bake at 200ºC for 15 minutes, or until golden and crispy.
Cooks Tips
Variations:
- Thai curry and coconut soup: Add 2-3 tablespoons Thai red curry paste and 2 teaspoons minced ginger to the soup ingredients. Replace the cream with coconut cream and garnish with chopped coriander.
- Carrot, pumpkin and cumin soup: Replace half the potato with carrots and add 2-3 teaspoons ground cumin with the vegetables. Use sour cream as the cream and decorate with a few toasted cumin seeds.
- Mussel and pumpkin chowder: Add chopped cooked mussel meat to the finished soup and garnish with plenty of chopped parsley before serving.
- Pumpkin and pesto soup: Omit the cream from the finished soup and stir in ½ cup basil pesto before serving garnished with sour cream and plenty of fresh basil leaves.
- Sweet potato and pumpkin: Replace the pumpkin with orange-fleshed kumara.
- Pumpkin and vegetable chowder: Before pureeing the soup, leave out a quarter of the pumpkin and potato pieces and cut into 1-cm chunks and set aside. Puree the remaining vegetables and return to the slow cooker with 1 cup frozen corn, 2 diced celery stalks and 2-3 diced courgettes. Cover and cook for a further hour or until the vegetables are cooked. Stir in the reserved diced vegetables with the cream and season with herbs of your choice.
- Pumpkin, orange and tomato soup: Replace three-quarters of the potatoes with juicy ripe tomatoes and puree when cooked. Stir in the grated rind and juice of 2 oranges.