Add to Cookbook

Classic Pickled Onions
30 minutes
24-36 hours
Makes 1.5 kilograms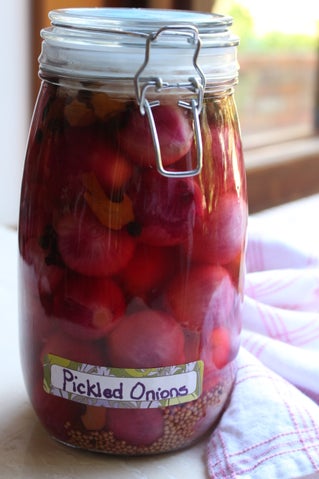 Crunchy, sweet, sharp and spicy, pickled onions, once the mainstay of the summer picnic table, can have a new twist when you make them with baby red onions and scent them with the sweet spices of mace, cloves and allspice.
Ingredients
1.5 kilograms pickling onions, red white or brown
1/2 cup salt (do not use iodised or free-flowing table salt)
About 3 cups vinegar
2 tablespoons whole cloves
3-4 pieces blade mace
1 tablespoon allspice berries
1 tablespoon mustard seeds
1-2 dried chillies, optional
Method
Using a small sharp knife, trim the core end carefully and peel the onions. The core end needs to remain intact to ensure a neat and tidy pickled onion
Place the onions in a non-metallic bowl and scatter over the salt pour over enough cold water to cover to onions and set aside in a cool place for 24-36 hours.
Heat the vinegar, mace, allspice, mustard seeds and dried chillies if using and simmer for 5 minutes. Set aside to cool completely.
Drain the onions, rinse well in cold water and then set aide to drain on a rack or in a sieve. Pat dry with paper towel.
Pierce a whole clove into each onion and pack the onions into sterilized dry jars. Pour the vinegar over the onions, making sure that the vinegar covers the onions by at least 1.5cm,and the spices are evenly distributed among the jars.
Should you need to, scrunch up some greased paper and place on top of the onions to help keep them submerged in the vinegar. Seal and set aside in a cool, dark place for 4-6 weeks before opening.
Cooks Tips
Pickled foods need to stand for a good month to allow preservation to take place and for the flavours to marry. Use a clean spoon or fork to remove the pickled foods as fingers can easily transfer bugs to the brine and cause spoilage