Add to Cookbook

Classic double-crust apple pie
30 minutes (excludes pastry)
1 hour
6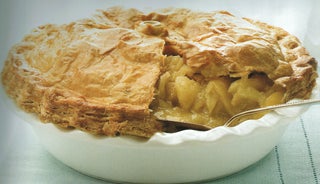 Apple pie stands the test of time when a comes to a family favourite.
Ingredients
650 grams flaky pastry (see recipe on our website)
1.5 kilograms apples
1 tablespoon lemon juice
½ cup sugar
2 teaspoons mixed spice
3 tablespoons cornflour
1 beaten egg or milk for glazing
Method
Preheat the oven to 200ºC and place oven rack in the middle to lower middle section of the oven.
Cut the pastry in half. Roll one half out on a lightly floured bench and use it to line the base and sides of a 6-cup capacity ovenproof pie dish. Refrigerate while preparing the filling.
Peel, core and thinly slice the apples and then toss with the lemon juice, sugar, spice and cornfour.
Place a pie funnel into the centre of the pastry covered pie dish and scatter the fruit mixture around the pie funnel. Brush the pastry edges with a little milk or beaten egg.
Roll out the remaining pastry just large enough to cover the top of the pie. Roll the pastry around the rolling pin and then unroll over the top of the apple and pie funnel. Press the two pastry edges together. Do not press too firmly or the pastry will become thin and burn when cooking.
Decorate with any remaining pastry scraps if wished and glaze with milk or beaten egg.
Place the pie on an oven try in case apple juices bubble out. Place the apple pie into the preheated oven for 20 minutes before turning down to 170ºC for a further 40 minutes or until the apples are cooked and the pastry is golden. Cool for 30 minutes before serving as the apples will be piping hot.
Cooks Tips
- Use half apple and finely sliced rhubarb or nectarines.
- Add 2 tablespoons chopped crystallised ginger.
- Use half apple and half pears and add the grated rind one lemon.
- Use half apple and half blackberries or blackcurrants.
- Stir in ½ cup of dried cranberries, raisins or sultanas.
- Try a variety of apples for the filling.