Add to Cookbook

Classic creamed rice
10 minutes
in the slow cooker, low 4-5 hours, high 2-2½ hours
6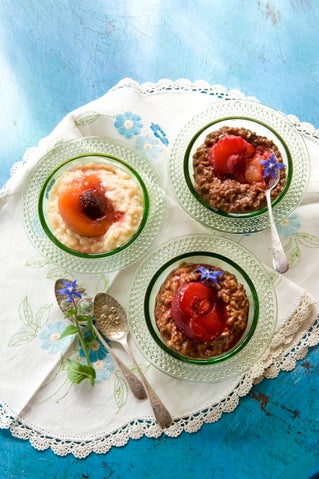 Rice in pre-Elizabethan times was so rare it was locked up in the spice cupboards of the weathly and only eaten on special occasion. By Charles I's reign (1625-49) rice cooked with milk, sugar and cinnamon was regarded as an aphrodisiac, no doubt due to its expense, though it certainly didn't do Charles I any good - he ended his reigns ingloriously beheaded!
Ingredients
2½ cups water
1 cup medium, or short-grain rice
¼-½ cup sugar
1 tablespoon butter
½ teaspoon ground cinnamon, nutmeg or mixed spice
1½ cups cream (or use ½ cream and ½ milk)
Method
Turn the slow cooker on to low to pre-warm while gathering and preparing the ingredients.
Place the water, rice, half the sugar, butter and spice into the pre-warmed slow cooker.
Cook on low for 4-5 hours or on high for 2-2½ hours, or until the rice is tender and most of the water has been absorbed.
Using a thin large metal spoon, gently cut in the cream and sufficient remaining sugar to achieve the sweetness level you prefer. Do not over-stir, especially with a thick-edged wooden spoon, as this will turn the creamed rice into mush.
Serve in bowls with poached seasonal fruits.
Cooks Tips
Variations: - Chop 50-100 grams dark chocolate and stir into the rice with the cream. Stand for 5-10 minutes before serving as this will allow the chocolate to melt. - Use white chocolate in place of dark. - Replace the spice with the grated rind of a lemon. Add only whole milk or cream to finish as lite-style milk will curdle from the inclusion of the lemon rind. - For a richer creamed rice, beat 2 egg yolks into the cream before cutting into the rice. - For kids, pop 2-3 marshmallows into the serving bowls before topping with the creamed rice, the marshmallows will soften quickly.