Add to Cookbook

Christstollen
2 3/4 hours
45-50 minutes
Makes 1 large loaf, serving 10-12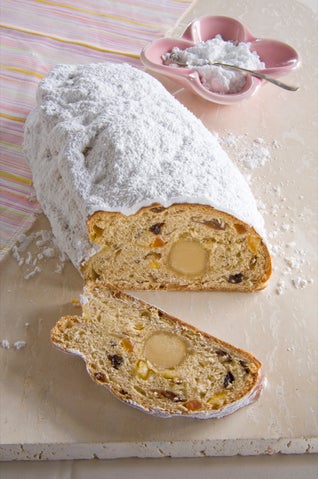 This German cake is traditionally eaten during Advent in Germany. The Christollen has a marzipan hear that resembles baby Jesus and the cake is the blanket in which he was wrapped.
Ingredients
1 cup sultanas or currants, or a mix of both
2 tablespoons brandy
3 cups high grade flour
3 tablespoons caster sugar
1/4 cup mixed peel
1/4 cup sliced almonds
1/4 cup finely chopped papaya or mixed peel
1 cup milk, warm
1 teaspoon caster sugar
2 teaspoons active dry yeast or 2 tablespoons Surebake yeast mix
1 egg
75 grams butter, melted
1 tablespoon butter, softened
200 grams marzipan
rosewater to flavour
Butter and sugar coating
50 grams butter, melted
1/2 cup icing sugar
Method
Toss the sultanas or currants in the brandy and set aside for 1 hour.
Sift flour and a pinch of salt together. Take 1 cup of flour and set aside. To the remaining 2 cups flour, add the 3 tablespoons caster sugar, mixed peel, almonds, papaya or mixed peel and sultanas or currants. Set aside.
Stir the warm milk, sugar and yeast together and set aside for 10 minutes, or until the mixture is frothy.
To the 1 cup of flour add the yeasty liquid, egg and melted butter and beat well to achive a smooth batter. Cover with a clean tea towel or plastic wrap. Stand in a warm place for 40 minutes or until the batter has doubled in bulk and is bubbly.
Stir this mixture into the flour and fruit mixture and mix to a firm dough. Turn out onto a floured surface and knead for about 10 minutes until smooth.
Turn dough over in a well-greased bowl and spread the softened butter over the top of the dough. Cover with plastic wrap and set aside in a warm place for 1 hour until double in bulk.
Turn the dough out onto a floured surface and gently press the dough down to deflate. Roll the dough into a large oval, about 1 1/2-cm thick.
Knead the marzipan with a little rosewater to flavour. Roll the marzipan out to form a thick sausage the length of the dough and place it right of centre. Brush the edge of the dough with milk. Fold the dough over the marzipan to make an over semi-circle and press the edges together firmly.
Transfer to a greased baking tray. Cover with a clean lightweight tea towel and set aside in a warm place for about 40 minutes until the dough has doubled in bulk.
Preheat the oven to 200 degrees Celsius. Bake in the preheated oven for 10 minutes, then lower the oven to 180 degrees Celsius for a further 35-40 minutes until golden. The dough is cooked when it sounds hollow when tapped underneath. Transfer the Stollen onto a cake rack to cool.
For the butter and sugar coating brush the warm Stollen well with the butter and sift the icing sugar liberally on top. Serve cut in slices.
Cooks Tips
If left to go stale, this is wonderful toasted and buttered.