Add to Cookbook

Christmas spice cookies
4 hours 20 minutes (includes chilling)
12-15 minutes
Makes 40 biscuits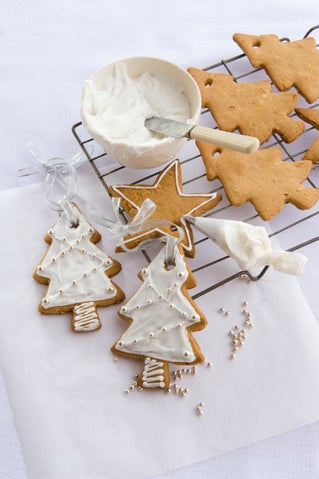 These are a traditional Scandinavian Christmas cookie, which are usually prepared in hand - carved wooden biscuit moulds. For simplicity, I have rolled the dough out, cut festive shapes and decorated with an easy fondant icing. These are special enough to be given as a gift at Christimas or hung on the tree for decoration.
Ingredients
250 grams butter, diced
1 cup caster sugar
¼ cup golden syrup
1 tablespoon honey
¾ cup flaked almonds
½ teaspoon cinnamon
2 teaspoons ground cardamom
1 teaspoon ground ginger
1 teaspoon baking soda
1 tablespoon water
3-3½ cups flour
Fondant icing
300 grams store-bought fondant
2 tablespoons caster sugar
2 tablespoons boiling water
1 teaspoon glucose
Method
In a saucepan, melt together the butter, sugar, golden syrup, honey, almonds, cinnamon, cardamom and ginger, stirring gently over a moderate heat.
Bring to the boil and then remove from the heat.
Dissolve the baking soda in the water and then stir into the warm butter mixture. Cool for 5 minutes.
Sift 3 cups of the flour into a large bowl and make a well in the centre.
Pour in the warm butter mixture and, using a wooden spoon, mix to a stiff dough. Add more flour if necessary to achieve this. Turn out onto a floured bench and knead lightly.
Divide the mixture in half and wrap in plastic wrap or greased paper and refrigerate for 4 hours or until firm. This makes the mixture easier to roll out.
Preheat the oven to 180ºC. Lightly grease 2-3 baking trays.
On a lightly floured bench, roll the mixture out to 3-mm thickness. Cut into shapes and place on the prepared trays.
Bake in the preheated oven for 12-15 minutes or until deep golden brown, but not burnt.
Transfer to a cake rack to cool. Store in an airtight container and decorate as wished. These biscuits will keep for 3-4 weeks if kept in a sealed container.
Fondant Icing
Cover the fondant with hot water from the tap and set aside for 10 minutes or until the fondant has begun to soften. Pour off the water.
Dissolve the sugar in the boiling water and add to the fondant with the glucose. Warm in the microwave for 1-2 minutes or until the fondant has begun to soften, stir to make a smooth icing. Cover with plastic wrap and allow to cool.
To decorate, spread the spice biscuits with the fondant and decorate with sliver cachous or other edible decorations.