Add to Cookbook

Christmas mince tarts
15 minutes, chilling time 30 minutes
15-28 minutes
Makes 24 mini or 12 regular-sized tarts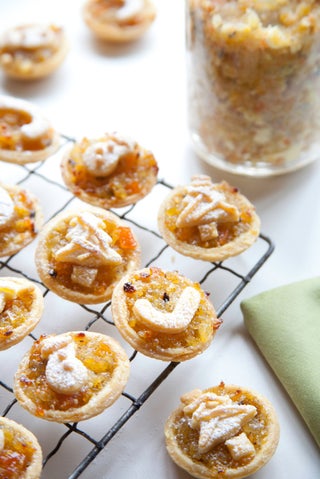 In my home it's just not Christmas without fruit mince tarts.
Ingredients
½ quantity vanilla fruit mince (see recipe on this website)
milk or beaten egg for glazing
Rich short pastry
1½ cups flour
½ teaspoon salt
150 grams butter, chilled and diced
1 egg yolk
1-2 tablespoons chilled water
Method
Sift the flour and salt into a bowl. Rub in the butter with your fingertips until the mixture resembles fine crumbs. Use a knife to cut in the egg yolk and sufficient water until the pastry begins to form large clumps. Turn out the dough and bring together. Wrap in greaseproof paper and refrigerate for 30 minutes before using.
Roll the pastry out on a lightly floured board until 3mm thickness. Cut out rounds large enough to fit 24 mini muffin tins (or 12 large) and press into the tins. Knead leftover pastry together, leave to rest.
Fill the tarts with plenty of fruit mince.
Re-roll the remaining rested pastry to 3mm thick. Cut into decorative Christmas shapes such as Christmas trees, candy canes and snowmen and place on top. Glaze with milk or egg glaze.
Bake at 180C for 15-18 minutes or until well-golden and cooked.