Add to Cookbook

Chocolate walnut squares
30 minutes
30 minutes
Makes 36-40 pieces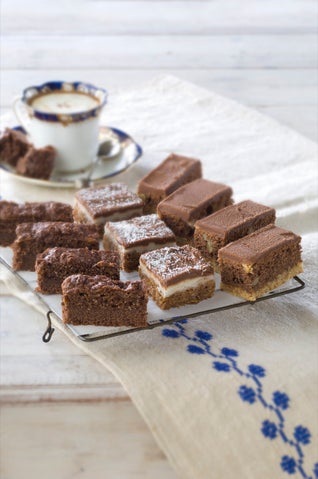 Ingredients
175 grams butter, melted
½ teaspoon vanilla essence
1¼ cups flour
½ teaspoon baking powder
¾ cup brown sugar
1¼ cups rolled oats
2 eggs, beaten
½ teaspoon vanilla essence
1¾ cups flour
½ teaspoon baking powder
¾ cup chopped walnuts
½ cup milk
1 quantity chocolate butter icing (see recipe of this website)
chocolate and walnut filling
75 grams butter, melted
1 cup caster sugar
¼ cup cocoa
Method
Preheat the oven to 180ºC. Grease and line a large 24x30cm slice tin.
Mix butter and vanilla essence together and cool.
Sift the flour and baking powder into a bowl. Stir in sugar and oats and make a well in the centre. Pour the butter into the well and mix together. Scatter the base evenly over the prepared tin and press down firmly.
Bake in the preheated oven for 10 minutes. While the base is cooking, prepare the filling.
chocolate and walnut filling
In a bowl, stir together the butter, caster sugar and cocoa. Add the eggs and vanilla essence and mix well. Sift flour and baking powder together and stir gently into the liquid ingredients with the walnuts and milk. Spread the filling evenly over the hot base.
Return to the oven for a further 20 minutes or until the filling is cooked and firm to the touch. Cool in the tin for 10 minutes before transferring to a cake rack.
Ice with chocolate butter icing when cold and cut into squares to serve. Store in an airtight container.