Add to Cookbook

Chocolate ripple log
20 minutes, 1¼ hours chilling time if possible
6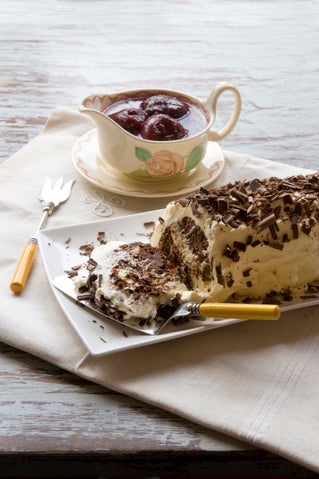 This incredibly simple recipe was on the back of the Chocolate Ripple Biscuit pack when I was a kid. Back then this was a special treat!
Ingredients
300 millilitre bottle cream
2 tablespoons icing sugar
1 teaspoon vanilla essence
¼ cup coffee liqueur
12 chocolate chip cookies
150 grams chocolate, grated
Method
Whip the cream with the icing sugar and vanilla essence until thick. Do not overbeat as it will become grainy-looking.
Place the coffee liqueur in a saucer. Place a piece of baking paper on a bench or chopping board.
Working carefully, dip a biscuit on both sides quickly into the liqueur and then spread with a little cream. Repeat this process, sandwiching all the biscuits together, using half the cream.
Roll the biscuit log up in the paper and refrigerate for 15 minutes.
Transfer the log to a serving platter. Spread the remaining cream over the entire log. Sprinkle with grated chocolate and refrigerate until ready to serve - preferably 1 hour. This allows the biscuits to soften, making them easier to slice and serve.
Cut on an angle when serving and accompany with poached fruits or a fresh fruit puree.
Cooks Tips
- Look for double chocolate biscuits, those with chocolate chips in a chocolate biscuit. - Use a peeler to peel or grated the chocolate to decorate the log as the 'shavings' will be chunkier. - Coffee liqueurs include Kahlua and Tia Maria. Other favourite liqueurs can be substituted. - Whipping cream. To achieve luscious whipped cream, have the cream well-chilled. Use a cold bowl and beaters as the beating process will add warmth to the cream. Beating by hand is preferable as you can watch closely and prevent over-whipping the cream, which can become granular-looking, lose volume and will leave a greasy feeling in the mouth. For a thicker-finished whipped cream, use a food processor, but do watch carefully. - If you don't want to use coffee liqueur, soak the biscuits in juice, like a berry or orange juice.