Add to Cookbook

Chocolate meringue puffs
10 minutes
1 hour
Makes 15 joined meringues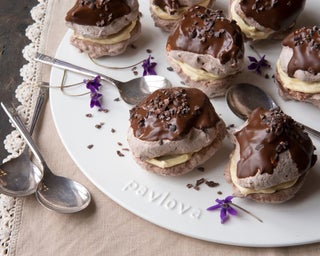 Filled with cream, these puffs explode with flavour and have that classic meringue texture.
Ingredients
4 egg whites, at room temperature
¾ cup caster sugar
pinch cream of tartar
1 teaspoon vanilla essence
1 tablespoon good quality cocoa
Decoration
200 grams dark chocolate, melted
200 grams mascarpone
2 tablespoons coffee liqueur
Method
Preheat the oven to fan bake 100ºC. Line 2 baking trays with baking paper.
In an electric mixer, whisk the egg whites and cream of tartar until they form soft peaks; begin slowly at first and then increase the speed once the egg whites become frothy.
Add the sugar, a tablespoonful or two at a time, beating well after each addition until the mixture is thick and voluminous. Beat in the vanilla essence. Sift over the cocoa and just mix on the lowest speed possible. Drop large spoonfuls onto the prepared trays, about 15 on each tray.
Bake in the preheated oven for 1 hour. Turn off the heat and leave in the oven to cool completely. The meringues should be dry. When cold store in an airtight container and use within 7 days.
Dip the top of half the meringues in melted chocolate and place on a cake rack or plate until the chocolate has set. Mix the mascarpone and coffee liqueur together, sweetening if wished with a little icing sugar. Spread a small amount of this on the remaining meringues and join them with the chocolate coated ones. Sprinkling with chopped chocolate nibs or chocolate hail if wished.