Add to Cookbook

Chocolate and hazelnut cake
20 minutes, chilling time overnight
60 minutes
8-10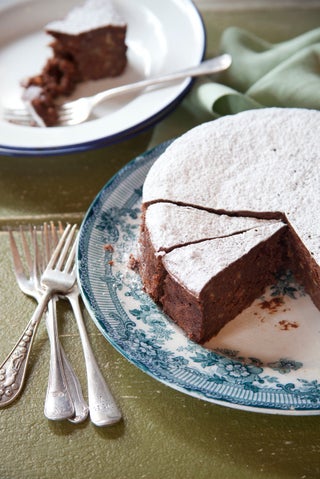 Best made the day before, this decadent cake will easily feed 8-10. There's no need to serve with cream or ice cream as the cake is best accompanied with a rich coffee.
Ingredients
250 grams hazelnuts
250 grams dark chocolate, roughly chopped
250 grams butter, softened
¾ cup sugar (caster is best here)
1 tablespoon vanilla essence
6 eggs, at room temperature
Method
Preheat the oven to 170ºC. Grease and line a 20cm round cake tin.
Bake the hazelnuts in the preheated oven for 8-10 minutes or until deep brown and roasted. Cool a little before rubbing off the skins. Cool and chop the coarse crumbs by hand or in a food processor.
Heat the chocolate in a microwave on medium-high power (70%) for 1-1½ minutes or until most of the chocolate has melted. Remove and stir until all the chocolate has melted. (Do not over cook in the microwave lest the chocolate overheats and seizes on you). Cool slightly.
Beat the butter, sugar and vanilla essence together until well creamed, light and fluffy. Add the eggs one at a time, beatin gwell after each addition. Stir in the chocolate and hazelnuts. Transfer mixture to the prepared cake tin.
Bake in the preheated oven for 30 minutes. Turn off the oven and leave for a further 30 minutes. Remove from the oven, cover with a piece of baking paper and then place a light weight, such as one dinner plate on top. Once cool, refrigerate overnight will the weight still on. Serve at room temperature cut into thin wedges.