Add to Cookbook

Chipotle, sundried tomato and pineapple salsa with smoked chilli beef
4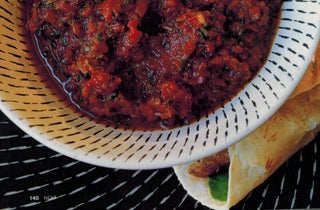 Ingredients
1-2 dried chipotle chillies
6-8 whole sundried tomatoes in oil (for 12-16 halves)
2 slices pineapple (fresh or canned)
2 red peppers, grilled and peeled
1 cup well-packed rocket leaves
3 tablespoons dark brown sugar or grated palm sugar
½ teaspoon salt
3 tablspoons oil
Beef
1 flank shirt steak
¼ teaspoon each salt, pepper and chipotle powder for seasoning
1-2 tablespoons chopped oregano
olive oil
Method
Soak the chillings in hot water for 3-5 minutes or until soft. Drain well. Remove the stems and deseed, if wished. Put chillies and all the other ingredients in a food processor and process until smooth. The flavour will improve on storing overnight in the refrigerator. Alternatively, pound the mixture in a mortar and pesto to make a chunky sauce.
Beef
Score the steak with a shallow criss-cross pattern on both sides. Rub both sides liberally with salt, pepper, chipotle powder, chopped oregano and oil to coat. Cover with plastic wrap and allow to marinate for 30 minutes.
Cook the steak in a very hot frying pan for 4 minutes each side and then rest for 2-3 minutes before carving. Service sliced thinly with the salsa. If wished, serve in soft tortillas with salad.