Add to Cookbook

Chinese braised pork belly
30 minutes, marinating time 1 hour (or overnight)
1½ hours
8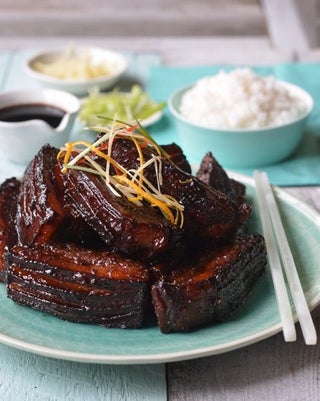 Belly pork, with its marbled layers of fat and meat cooked with a well-balanced selection of Chinese cuisine flavours (ginger, garlic, soy, star anise), spiked with chillies and sweetened with molasses-tasting dark palm sugar, braises here gently into a dish of sheer deliciousness, that only requires simple accompaniments of boiled rice and a bowl of steaming greens.
Ingredients
1.5 kilogram belly pork, well scored
1/3 cup light soy sauce
1/3 cup dark soy or sweet soy sauce
¼ cup mirin or vodka
¾ cup firmly packed brown or grated palm sugar
pared rind and juice of 1 orange
2 teaspoons minced fresh garlic
1½ tablespoons grated fresh ginger
2 dried large red chillies, torn and deseeded
1 cinnamon or ½ cassia stick
1 teaspon Chinese five-spice powder
2 cups chicken stock
Garnish
2 spring onions, trimmed and shredded
1 tablespoon shredded fresh ginger
2 mild green or red chillies, shredded
shredded rind of 1 orange
Method
Preheat the oven to 180ºC.
Cut the pork belly in half lengthwise and then into 4-5cm thick slices and place in a large oven-proof or roasting dish.
Stir together the soy sauces, mirin or dry sherry, ¼ cup of the palm sugar, orange rind and juice, garlic, half the ginger, chillies, cinnamon or cassia stick and Chinese five spice. Pour over the pork and toss. Cover and refrigerate for 1 hour or overnight if wished.
Remove the pork from the marinade, reserving the marinade ingredients and brown the pork in a dash of oil in a large frying pan, being careful not to burn the pork. Transfer to a large roasting pan.
Add all the marinade ingredients to the pan with the chicken stock and bring to the boil. Boil rapidly until reduced by 1/3. Pour over the pork.
Bake uncovered in the preheated oven for 1½ hours, turning the pork occasionally until the pork is tender.
Transfer the pork to a deep serving bowl. Place the baking dish over a direct heat, add the remaining palm sugar and simmer until thick and glossy. Pour over the pork and scatter over the garnish ingredients.