Add to Cookbook

Chilli and Dried Apricot Chutney
15 minutes
30 minutes
1.25 kilograms (about)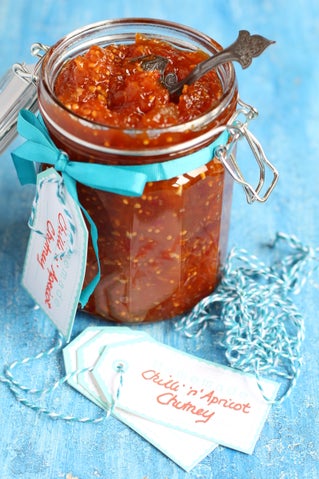 Dried New Zealand apricots are essential to use when making this, or any other dried apricot sauce, chutney or relish as they cook down to a pulpy consistency, whereas the imported Turkish apricots stay whole, making them perfect to add to slow-cooking dishes where you wish the fruit to stay whole. This chutney has all the elements that are required of a good chutney - spicy, sweet and sharp, with plenty of fruit flavour.
Ingredients
500 grams New Zealand dried apricots
1 onion, peeled and finely chop ( use brown a onion)
4-6 large, fresh red chillies, deseeded if wished
5-8 cm piece fresh ginger, peeled and grated
6 cloves garlic, crushed, peeled and finely chopped
2 teaspoons yellow or brown mustard seeds
6 whole cloves
3 cardamoms
1-2 pieces mace
3 cups white vinegar (use cider, white wine or distilled)
500 grams sugar
(optional 2 juicy ripe tomatoes, blanced, peeled, deseeded and chopped)
Method
Chop the apricots roughly and place into a large saucepan or small preserving pan with the onion, chillies, ginger and garlic. In a small piece of muslin cloth, tie the whole spices and add to the apricots with the vinegar.
Bring very slowly to the boil, reduce heat to a simmer, and cook for around 20 minutes, stirring frequently until the apricots begin to soften . Do not boil rapidly as there will be too much evaporation . Once the apricots are soft, stir in the sugar and continue to cook over a moderate heat, stirring frequently until the chutney is thick. Note that the chutney will thicken further as it cools.
Bottle hot, into warm, dry, sterilised jars and cover loosely with a clean cloth. When cold, seal well. I like to pour a layer of melted paraffin wax on top of the chutney before securing on the lid. Paraffin wax is available in all good supermarkets, look for it on the lower shelves in the area where all the accoutrements for preserving are.
Keep in a cool place, away from sunlight for 2-3 weeks before opening. All good chutneys need a honeymoon time which allows the flavours marry up. Always store in a cool place with the lid screwed on securely.
Delicious served with ham and grilled ham steaks.
Option. If wished add the tomatoes with the vinegar, the flavours work together well. cooking time will be marginally longer; about 5 minutes.