Add to Cookbook

Chilled Lemon Mousse
15 minutes, chilling time: 4 hours, minimum
6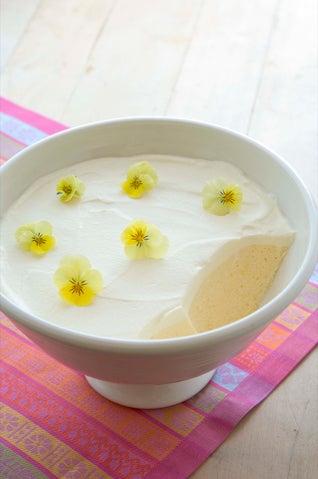 Simply refreshing any time over summer. Meyer lemons are particularly good to use as they have a delicious sweetness to them.
Ingredients
1 tblsp gelatin
¼ cup water
3 eggs, separated
grated rind 2 lemons
½ cup lemon juice
1 cup caster sugar
1 cup cream, well chilled and lightly whipped
To Decorate
½ cup cream, lightly whipped
a few edible flowers such as violets or calendula petals
Method
Sprinkle the gelatin over the water and leave to swell. Dissolve by standing the dish over hot water or heating in the microwave for 15 seconds on high. (Do not overheat or the gelatin will become stringy and not melt).
Put the egg yolks with the lemon rind, lemon juice and sugar into a clean bowl and beat until the mixture becomes thick and pale in colour. If your bowl is heatproof, standing it over a saucepan of simmering water will achieve greater volume.
In a clean bowl, beat the egg whites until stiff. Add ¼ tsp cream of tartar to achieve better volume fromt he egg whites if wished.
Gently mix together the whipped egg yolk mixture, gelatin, egg whites and cream. Pour into a four-cup capacity dish and chill until set. Decorate the mousse with whipped cream and edible flowers before serving.
Cooks Tips
- For added taste, add 2 tblsp Grand Marnier when whipping the cream. - Do not overheat in the microwave as the gelatin will become stringy. As with all gelatin dishes, allow this mousse to set for at least 4 hours in a very cold fridge. - Use the grated rind and juice of oranges in place of lemons as a variation.