Add to Cookbook

Chickpea tagine
soaking time: 12-16 hours, preparation time: 20 minutes
in the slow cooker: low 11-12 hours, high 8-9 hours
10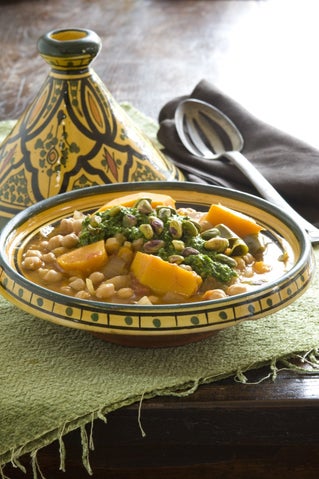 Caraway seeds give this spicy vegetarian tagine a special warm note that partners well with the herb and pistachio nut harissa-style paste that's spooned over just before serving. If you don't have any, don't fret, the tagine is still delicious without them.
Ingredients
2 cups dried chickpeas
1 tablespoon ground cumin
1 tablespoon ground coriander
1 tablespoon paprika
1 teaspoon ground ginger
1 teaspoon ground chilli powder
½ teaspoon caraway seeds
3 fresh long green chillies, de-seed if wished
5 cups vegetable stock or water
400 gram can diced tomatoes in juice
1 kilogram pumpkin, peeled
Herb and pistachio nut paste
4 fresh long green chillies
1 cup loosely packed coriander
1 cup well-packed spinach leaves, well-washed
½ cup loosely packed mint
¼ cup shelled pistachio nuts
½-1 teaspoon minced garlic
½ teaspoon each coriander seeds and cumin seeds, toasted
¼-½ cup olive oil, virgin olive oil is nice here
Method
Soak the chickpeas in plenty of cold water overnight, preferably for 12-16 hours. You will need 3-4 times the amount of water to chickpeas.
Turn the slow cooker on to low to pre-warm while gathering and preparing the ingredients.
Drain the chickpeas and place in the slow cooker with the cumin, coriander, paprika, ginger, chilli powder, caraway seeds, green chillies, stock or water and tomatoes. Stir to mix evenly and cover with the lid.
Cook on low for 9 hours or on high for 6 hours.
Cut the pumpkin into 3-4cm sized pieces and add to the tagine, stirring to mix into the hot chickpeas. Cover with the lid.
Continue to cook for a further 2-3 hours on low or high or until the chickpeas and pumpkin are tender.
Serve the tagine in deep plates with a generous spoonful of herb and pistachio nut paste and garnished with extra pistachio nuts if wished.
Herb and pistachio nut paste
Trim the stems off the green chillies and de-seed if wished.
Put the chillies into a mini food processor with the coriander, spinach, mint, pistachio nuts, garlic and coriander and cumin seeds, and process until well chopped.
With the motor running, pour in sufficient oil to make a smooth, soft paste. Season with salt to taste if wished. Keep refrigerated in an airtight container.
Cooks Tips
- Chickpeas will benefit from extra-long soaking overnight to ensure they cook in a reasonable time frame, otherwise you will find that the cooking time is extremely long.