Add to Cookbook

Chickpea salad
10 minutes
10 minutes
4-5 as a side salad, 2-3 as a main course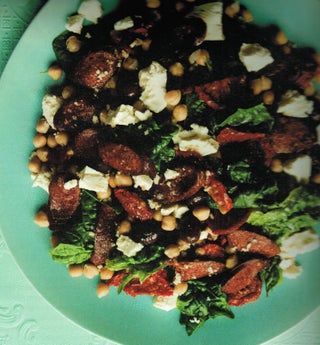 Ingredients
3-4 spicy chorizo sausages
400 grams can chickpeas
10 black olives
2 cups well-packed fresh spinach leaves, washed
6-8 sundried tomatoes, in oil, drained and halved
100 grams feta cheese, finely diced or crumbled
Dressing
2 tablespoons white vinegar
2 tablespoons oil, olive or avocado is nice here
2 teaspoons minced garlic
Method
Slice the chorizo thinly on the diagonal. Panfry in a hot pan without any extra oil until browned and crispy. Set aside.
Drain and rinse the chickpeas well and place in a large bowl. Add the olives, spinach leaves, sundried tomatoes, feta cheese and chorizo slices.
Add the dressing and toss well. If possible, allow the salad to stand for 15 minutes before serving so that the flavours have time to mingle.
Dressing
Mix the dressing ingredients together and season well with salt and pepper.