Add to Cookbook

Chickpea pancakes with tomato & mustard seed salsa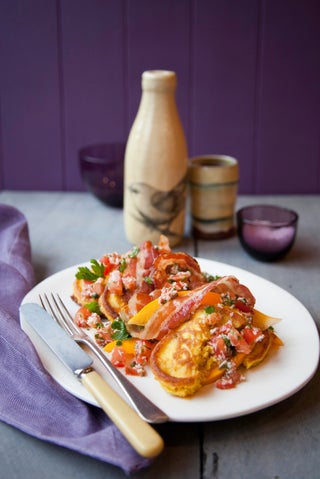 From India, these chickpea pancakes are best served with a chilled beer.
Ingredients
2 cups chickpea (besan) flour
½ teaspoon baking soda
½ teaspoon turmeric
½ teaspoon curry powder
½ cup natural yoghurt
¾ cup warm water
1 green chilli, deseeded and finely chopped
1-1½ tablespoons minced fresh ginger
1 tablespoon salt
juice of ½ lemon
Tomato & mustard seed salsa
1-2 tablespoons olive oil
1 teaspoon yellow mustard seeds
3-4 tablespoons desiccated coconut
2 tablespoons fresh chopped coriander
1 juicy ripe tomato, diced
Method
Mix together the chickpea flour, baking soda and dried spices with the yoghurt and warm water. Leave the batter to sit for 15 minutes.
Add the chopped chilli, minced ginger, salt and lemon juice to the batter and stir to combine.
Heat a dash of oil in a non-stick frying pan and cook large spoonfuls of the pancake mixture for 2-3 minutes each side until golden brown and cooked through.
Serve warm with the Tomato & Mustard Seed Salsa and slices fresh avocado and papaya or add some crispy bacon.
Tomato & mustard seed salsa
Heat the oil in a non-stick fry pan. Add the mustard seeds and cook until they begin to crackle.
Pour the mustard seeds over the coconut, coriander and tomato and toss gently to combine.