Add to Cookbook

Chicken Marengo with a twist
30 minutes
in the slow cooker low 5-7 hours, high 3-4 hours
5-6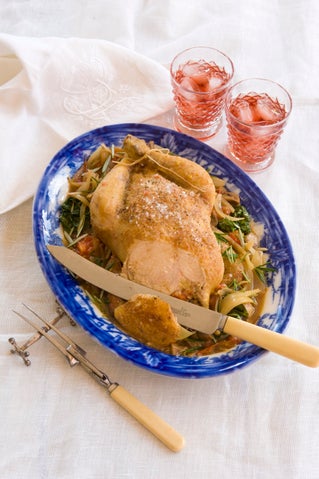 Chicken Marengo is a classic French dish that takes its name from the Battle of Marengo - the site of one of Napoleon's victories. The story goes that the dish was thrown together by his chef, using only the ingredients available to him. But, given tomatoes were unknown at this time, there's an element of debate about the original ingredients. I do like the touch of brandy added just before serving, it gives the dish an appealing, slightly alcoholic flavour - one wonders if Napoleon, known for his love of brandy, had an input into this recipe?
Ingredients
Stuffing
3 cups fresh breadcrumbs, white or brown
½ cup pine nuts, toasted
6-8 semi-dried or sun-dried tomatoes, sliced
4 tablespoons oil or butter, melted
2 tablespoons chopped fresh rosemary
½ teaspoon minced garlic
Casserole
1.5-1.6 kilogram whole chicken
1 onion, peeled and finely sliced
250-350 grams button mushrooms, halved
1 teaspoon minced garlic
4 large juicy tomatoes, quartered
1 cup marsala wine or chicken stock
¼ cup brandy
Method
Turn the slow cooker on to low to pre-warm while gathering and preparing the ingredients.
In a bowl, toss together the breadcrumbs, pine nuts, semi-dried or sun-dried tomatoes, oil or butter, rosemary and garlic.
Rinse the chicken and pat dry, especially the cavity of the chicken.
Use the stuffing to fill the cavity and crop or neck end of the chicken. Tie the legs together and tuck the wing tips under the chicken to hold the stuffing in the crop or neck end. This will also ensure the chicken keeps good shape when cooked.
Heat a good dash of oil in a large frying-pan and brown the chicken as well as possible all over. Cook the onion, mushrooms and garlic until softened and lightly browned.
Into the pre-warmed slow cooker put the chicken and scatter around the onion, mushrooms, garlic and tomatoes. Pour over the wine or stock and cover with the lid.
Cook on low for 5-7 hours or on high for 3-4 hours, or until the chicken is well cooked and tender. Pour in the brandy before serving.
Serve the chicken with plenty of pasta and your favourite seasonal vegetables.
Cooks Tips
Variations: - Pull the meat from the cooked chicken, discarding the ones and skin, and return the chicken to the sauce. Toss with a cooked chunky-style pasta. Add a few chopped stalks of parsley, rocket or a tablespoon of fresh rosemary leaves. - Use 5-6 chicken leg and thigh portions in place of the whole chicken. - When tomatoes are out of season, use a 400-gram can of chopped tomatoes or whole peeled tomatoes in juce.