Add to Cookbook

Chicken, leek and tarragon braise
20 minutes
in the slow cooker: low 6-7 hours, high 4-5 hours
6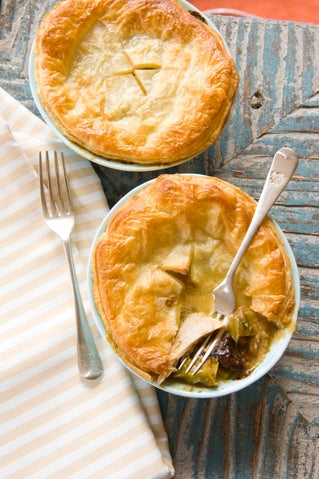 The braise boasts fabulous winter flavours from the leeks and prunes and all that's required on the side is a bowl of steaming hot, fluffy mashed potatoes.
Ingredients
2-3 leeks, trimmed and halved lengthwise
6-8 chicken leg and thigh portions
1½ cups chicken stock or white wine
1 tablespoon minced garlic
1 teaspoon dried tarragon
1-1½ cups roughly chopped pitted prunes
¼-½ cup cream
Method
Turn the slow cooker on to pre-warm while gathering and preparing the ingredients.
Wash the leeks thoroughly to remove any grit that hides between the layers. Shake dry and slice finely.
Brown the chicken pieces and leeks well in a dash of oil or a hearty knob of butter in a hot frying pan until well browned. This will be best done in batches to avoid the ingredients from stewing.
Place the chicken and leeks into the pre-warmed slow cooker. Mix together the chicken stock or wine, garlic and tarragon and pour over the chicken. Scatter over the prunes.
Cover and cook on low for 6-7 hours or on high for 4-5 hours. Stir in the cream and seasonw ith salt and pepper before serving.
Cooks Tips
- To test if the chicken is cooked, take one piece out and cut into the thickest, meatiest section. The meat should be white and not pink. If the chicken requires more cooking, return the piece to the cooker, stir to rearrange the ingredients, cover and allow an extra 45 minutes of cooking time before testing again. Variations: - Replace all the chicken stock or water with ¾ cup vermouth or dry sherry and ¾ cup chicken stock. - Add ½ cup chopped ham with the chicken. - Use a whole chicken in place of chicken pieces and amend cooking time to suit. - Pull the meat from the chicken and turn into a pie (as pictured).