Add to Cookbook

Chicken laksa braise
15 minutes
in the slow cooker low 5-6 hours, high 3-4 hours
6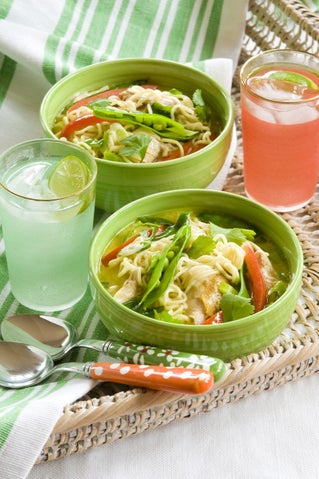 A whole chicken cooked gently in thick, creamy coconut cream with spices and flavourings from South-East Asia is an easy way to make a mouth-watering laksa-style braise with ease.
Ingredients
1.5-1.6 kilogram whole chicken
4 lemon grass stalks
1½ teaspoons minced ginger
1-2 teaspoons minced garlic
1 teaspoon minced chilli or Sambal Oelek
1½ teaspoons ground coriander
2 cups chicken stock
400 millilitre can coconut cream
1 tablespoon fish sauce, optional
150-200 grams thin dried egg noodles
1 red capsicum
150 grams mange-tout (sugarsnap peas)
3-4 spring onions, trimmed and sliced
2 tablespoons chopped fresh coriander
1 tablespoon chopped fresh mint
Method
Turn the slow cooker on to low to pre-warm while gathering and preparing the ingredients.
Rinse the chicken well and pat dry with a paper towel, especially the cavity.
Cut the lemon grass in two, crosswise just where the white bulbous end begins to turn green.
Bruise the green stalks with the heel of a heavy cook's knife and place them into the cavity of the chicken with half of the minced ginger.
Place the chicken into the pre-warmed slow cooker. Finely slice the remaining lemon grass and add to the slow cooker with the remaining ginger, garlic, chilli or Sambal Oelek, ground coriander, stock, coconut cream and fish sauce, if using, and cover with the lid.
Cook on low for 5-6 hours or on high for 3-4 hours, or until the chicken is tender. Carefully remove the chicken from the slow cooker, place on a plate and cover.
Cook the noodles in boiling salted water for 4-5 minutes or until tender. Drain well and chop roughly.
Add the noodles, capsicum, mange-tout, spring onions, fresh coriander and mint to the slow cooker. Cover and cook on high for 30 minutes to allow the vegetables time to heat through but remain crispy.
Break the chicken into pieces and serve in deep bowls with the noodles and a large ladle of coconut-infused cooking liquid.
Cooks Tips
Variation - Use 5-6 chicken leg and thigh portions in place of a whole chicken. - Fish sauces is an essential Asian seasoning. It is pungent to almost off-putting for some, but its unique flavour adds an authentic touch where it is used. Fish sauces from different countries are prepared from various fish and so there will be a difference in flavour depending on what brand you buy. Colour and price is a general guide to quality. The darker the sauce, the stronger the taste and higher the quality. - Coconut cream is thicker and will produce a creamier laksa, but coconut milk is perfectly acceptable here.