Add to Cookbook

Chicken cacciatore (slow cooker method)
without browning 20 minutes, with browning 30 minutes
in the slow cooker low 6-7 hours, high 3-4 hours
8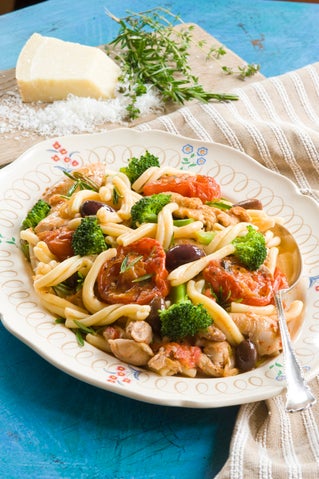 The word cacciatore is Italian for hunter, and any dish with this name will usually contain tomatoes, onions, mushrooms, herbs and wine. It was a favourite dish of the 1970s - I remember cooking it at the Tech collage I attended. Its ease of preparation and use of simple, good-flavoured ingredients makes it a dish worth bringing back to life. I've added anchovies for an extra punch.
Ingredients
8 chicken leg and thigh portions
2 onions, peeled and finely sliced
2 teaspoons minced garlic
4 large juicy fresh tomatoes, roughly choppped
½-1 cup black olives
1 bouquet garni
1 tablespoon fresh rosemary or thyme leaves
400 gram can tomato puree or diced tomatoes in juice
½ cup red or dry white wine
½ cup chicken stock
2 tablespoons tomato paste
3 anchovy fillets, finely chopped
Method
Turn the slow cooker on to low to pre-warm while gathering and preparing the ingredients.
Cut the chicken leg and thigh portions in half if wished.
If wishing to brown the ingredients heat a good dash of oil or a knob of butter in a heavy-based frying-pan and brown the chicken pieces well on all sides. This will be best done in batches to avoid the chicken from stewing. The browner the chicken, the more flavour the finished dish will have. Once the chicken pieces are all browned, add the onions and garlic and a dash more oil if required and brown lightly.
Into the pre-warmed slow cooker put the chicken, onions, garlic, fresh tomatoes, olives, bouquet garni and rosemary or thyme. In a jug, mix together the tomato puree or tomatoes in juice, wine, stock, tomato paste and anchovies. Pour over the chicken and cover with the lid.
Cook on low for 6-7 hours or on high for 3-4 hours, or until the chicken is tender. Serve the chicken with pasta.
Alternatively, lift the chicken from the slow cooker and, when cool enough to handle, pull the met from the bones. Return the meat to the slow cooker (discard the bones) and stir to mix. Toss through penty of hot, freshly cooked chunky-style pasta, with slow-cooked tomato halves. Add extra fresh rosemary leaves if wished. Have grated Parmesan on hand for guests to grate on their bowls of pasta as they please.
Cooks Tips
Variations
- Add a few slices of thin-cut salami. Choose a chilli or garlic-spiced salami for the fabulous flavour it will add.
- Use bacon in place of salami - 4-5 diced rashers would be ideal and they can be pan-fried with the chicken until brown.
- Make a mixed-meat cacciatore, replacing half the chicken in weight with beef, lamb or pork and including a few slices of salami or a chorizo-style sausage.
- To slow cook tomatoes, halve juicy ripe tomatoes and place in an ovenproof dish cut side up. Season with salt and pepper, a drizzle of olive oil and a sprinkling of a favourite herb like thyme or rosemary. Bake at 140ºC for about 1½-2 hours or until the tomatoes are well wrinkled and smell glorious. Cover in the fridge, but serve at room temperature.