Add to Cookbook

Chicken and spinach kebabs
15 minutes, marinating time up to 30 minutes
12 minutes
5-6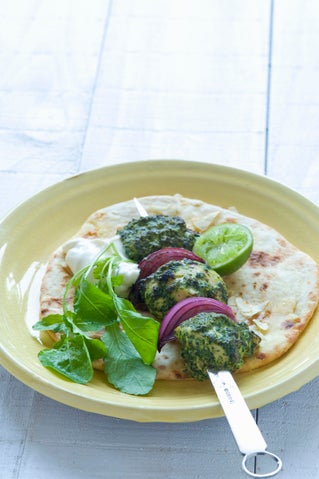 Ingredients
4 single chicken breasts or 5-6 boneless leg and thigh portions
4 cups well-packed spinach leaves
1 cup packed mint leaves
1 cup packed coriander leaves
1 tablespoon minced garlic
1 green chilli, deseeded
1 cup plain unsweetened yoghurt
1 egg yolk
1-1½ teaspoons curry powder
Method
Cut the chicken into chunky pieces, place in a deep dish, cover and refrigerate. Wash and cook the spinach with only the water that clings to the leaves until it is just wilted. Cool.
Process the spinach, mint, corainder, garlic, chilli, yoghurt, egg yolk and curry powder. Pour over the chicken, cover and refrigerate for 15-30 minutes.
Preheat the oven to 230ºC fan bake or 250ºC without fan. Line a baking tray with foil and place the chicken pieces on the foil in a single layer.
Bake in the preheated oven for 10-12 minutes or until the chicken pieces are cooked and beginning to brown. Alternatively, barbecue on a well-oiled hot plate. Serve on kebab sticks with warm garlic naan bread and yoghurt to accompany. If wished, squeeze a little lime juice on each kebab before serving.
Cooks Tips
- This is not a hot dish. If you would like more fire from the chillies, use 2 green chillies or substitute one red chilli.