Add to Cookbook

Chicken And Olive Tortillas with Refried Beans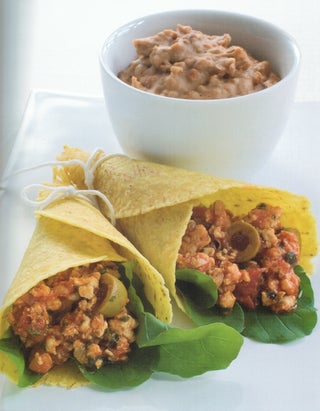 The flavours of Mexico provide inspiration for spicy chicken tortillas, served with Best Refried Beans.
Ingredients
500 grams chicken mince
½ onion, peeled and diced
1 teaspoon minced fresh garlic
2 teaspoons ground cumin
1 teaspoons minced chilli paste
400 gram can tomatoes in juice, roughly chopped, or Mexican-flavoured tomatoes
¼ cup stuffed olives, sliced or chopped
2-3 tablespoons chopped fresh coriander
4-6 tortillas
refried beans
Method
Heat the oil in a medium sized pan and brown the onion and chicken mince for 3-4 minutes, breaking up with the back of a spoon as it browns. Add the garlic, cumin and minced chilli and cook for a further 1-2 minutes, until fragrant.
Add the tomatoes and juice and olives and simmer uncovered for 10 minutes, stirring occasionally. Lastly add the coriander and season with a pinch of salt and sugar.
Warm the tortillas either wrapped in plastic wrap in the microwave for about 1 minute or wrapped in foil in a low oven for 5-8 minutes. Spoon 2-3 tablespoons of the chicken mixture onto the edge of the tortilla. Top with a spoonful of refried beans, your favourite salad ingredients and roll up to enclose. Serve with sour cream.
Cooks Tips
Variation: Use beef mince in place of chicken with black olives or a mix of green and black. - Prepare double the Chicken and Olive recipe and freeze one half for use the next week. - Try cornmeal tortillas in place of wheat tortillas. - The flavours here will only get batter if the chicken mixture is made a day or two in advance. - To store left-over onion halves, always wrap in foil or place in an airtight container and refrigerate. Keep well away from dairy and delicate foods, as onion will easily taint them.