Add to Cookbook

Chicken and lentil curry
15 minutes
in the slow cooker: low 6-7 hours, high 3-4 hours, plus extra 20-30 minutes
8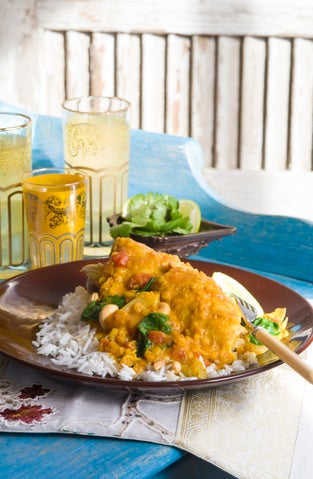 The flavours of this simple curry are delicious. This easy recipe is one of my favourites in Slow.
Ingredients
2 cups light-flavoured chicken stock or water
1 tablespoon tamarind pulp
8 chicken leg and thigh portions
1-2 red onions, peeled and thickly sliced
1 cup red lentils
400 gram can chopped tomatoes
2 tablespoons curry powder
1 tablespoon minced garlic
1 tablespoon minced ginger
2 teaspoons ground coriander, optional
2 teaspoons ground cumin, optional
3-4 bunches fresh spinach
Method
Turn the slow cooker on to low to pre-wwarm for 15-20 minutes while gathering and preparing the ingredients.
Mix the stock or water and tamarind pulp together, kneading the tamarind until the water is murky. Strain to remove any fibrous material from the tamarind and set the brownish stock or water aside.
Remove the skin from the chicken if wished.
Scatter the onion and lentils into the pre-warmed slow cooker. Sit the chicken pieces on top.
Stir together the tamarind water with the tomatoes, curry powder, garlic, ginger and the coriander and cumin if using. Pour over the chicken and cover with the lid.
Cook on low for 6-7 hours or on high for 3-4 hours.
Tear the spinach leaves from the coarser stems. Rinse the leaves and stir into the curry. Cook on low for a further 20-30 minutes or until the spinach has just wilted and the curry is hot.
Serve sprinkled with a little chopped onion and chopped fresh coriander or toasted cashew nuts before serving with plenty of rice on the side.
Cooks Tips
Variations:
- Use Indian-spiced canned tomatoes - they are great with this dish.
- Use an Indian curry paste in place of curry powder.
- Add ½-1 teaspoon chilli powder for a curry with more kick.
Allyson's Tips
- If a curry is too 'chilli hot', stir ½-1 cup of plain unsweetened yoghurt into the curry before serving. Do not allow the curry to boil once added, as the yoghurt will curdle and while the dish will not be ruined, it will look awful.
- There is no need to soak lentils overnight, but it is a good idea to rinse them before cooking.