Add to Cookbook

Chicken and asparagus fricassee
15 minutes
in the slow cooker low 5-7 hours, high 3-4 hours, plus extra 20-30 minutes
5-6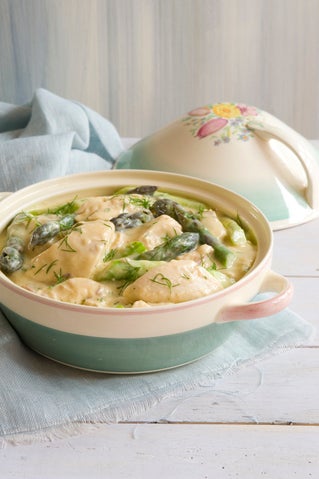 This is a classic fricassee. A dish cooked simply in stock with a few flavourings like bouquet garni. The finished sauce is thickened with egg yolks and cream - it is delicate and delicious. I have, though, added a little cornflour to prevent anyone overcooking the sauce and scrambling the egg yolks.
Ingredients
1.5-1.6 kilogram whole chicken
2 tablespoons flour
50 grams butter
1½ cups chicken stock
1 bouquet garni
3 egg yolks
½ cup cream
2 tablespoons cornflour
250-350 grams fresh asparagus spears, blanched
1-2 tablespoons chopped fresh tarragon or chervil
Method
Turn the slow cooker on to low to pre-warm while gathering and preparing the ingredients.
Rinse the chicken well under running cold water and pat dry using absorbent paper, especially the chicken cavity.
Sift the flour over the top of the chicken and, if wished, tie the legs together so the chicken holds its shape.
Heat the butter in a heavy-based frying-pan and, when hot, carefully brown the chicken as well as possible on all sides.
Into the pre-warmed slow cooker put the chicken, butter, stock and bouquet garni and cover with the lid.
Cook on low for 5-7 hours or on high for 3-4 hours, or until the chicken is well cooked. Carefully lift the chicken from the slow cooker and transfer to a plate, cover and keep warm.
Mix together the egg yolks, cream and cornflour to make a smooth paste and stir into the slow cooker with the cooking juices. Cover and cook on high for 20-30 minutes or until the sauce has thickened.
Alternatively, cook the sauce in a saucepan over a low heat, stirring constantly until thickened.
Tear or cut the chicken into large pieces and return to the slow cooker with the asparagus and tarragon or chervil and turn gently to coat the in the hot sauce. Serve immediately with your favourite seasonal vegetables.
Cooks Tips
Variations: - Mushroom: Slice 250 grams button mushrooms finely and cook in a generous knob of butter in a moderately hot frying pan until soft and no moisture remains. Stir into the sauce with the egg yolks and cream. - Corn: Add one well-drained can of corn kernels with the egg yolks and cream and season with herbs such as chives or parsley. - Use 6 leg and thigh portions in place of a whole chicken.