Add to Cookbook

Cherry seasoned rolled roast belly pork
30 minutes
2 hours (approx)
8-10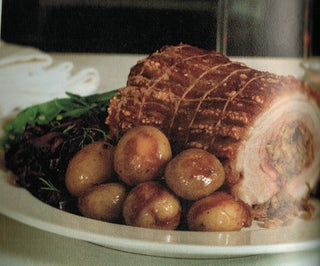 Belly pork cut affords you crisp crackling, juicy tender pork inexpensively. The cherry and almond stuffing is a sensational match with the pork. For a meatier cut, try a boned shoulder of pork.
Ingredients
1 cup fresh white or wholemeal breadcrumbs
½ cup sliced almonds, toasted
½ cup dried, glace or chopped fresh cherries
3-4 pieces crystallised ginger, finely chopped
75 grams butter, softened
grated or shredded rind one orange
1 teaspoon ground allspice or mixed spice
2½ kilogram piece belly or pork, well-scored or 2½ kilogram boned shoulder of pork
2 tablespoons oil or lemon juice
1 tablespoon salt
Method
Preheat the oven to 220ºC. Place a rack in a roasting dish.
Mix together the breadcrumbs, almonds, cherries, ginger, butter, orange rind and allspice or mixed spice. Place the pork skin side down on a chopping board and mould the filling into the centre of the pork.
Bring the pork together to enclose the stuffing and secure with string or skewers.
Place on a rack. Drizzle the skin with the oil or lemon juice and rub the salt into the skin.
Place in the preheated oven for 15 minutes.
Lower the temperature to 170ºC and cook for a further 1¼-1½ hours. The crackling should be crisp and the meat cooked. When the thickest part of the meat is pierced with a meat fork the juice should run clear, if pink continue cooking. If using a pork temperature thermometer, the meat should be 71ºC.
Remove the roast from the tray, place on a plate, cover and set aside to rest for 10-15 minutes while making the Cherry Gravy. The resting time ensures the pork will be tender when carved.