Add to Cookbook

Cheese Panna Cotta
15 minutes, chilling time 2 hours
3-5, makes 1½ cups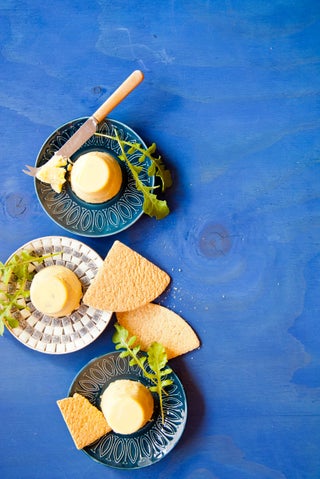 This is a twist on a cheese course. Rich and meltingly sensational this recipe, which I occasionally make for special celebrations is delicious served at room temperature on oat crackers or thin, toasted slices of sour dough. It is very rich and so you may wish to serve a half portion to each person.
Ingredients
1 cup cream
200 grams parmesan cheese, finely grated
125 grams blue cheese, crumbled
4 egg yolks
oat crackers to accompany
Method
Heat the cream in a saucepan and when it is at scalding point stir in the grated and crumbled cheeses. Stir over a low heat until melted.
Stir the egg yolks together. Pour ¼ of the hot sauce into the eggs and stir quickly to blend together. Once blended, pour this into the saucepan on hot sauce and stir quickly over a low heat until thickened.
Transfer to 3 x ½ cup capacity lightly greased moulds and refrigerate until firm. Remove from the fridge one hour before serving with oat crackers.