Add to Cookbook

Char siu beans with mushrooms
soaking time: overnight, preparation time: 15 minutes
low 7-8 hours, high 3-4 hours
6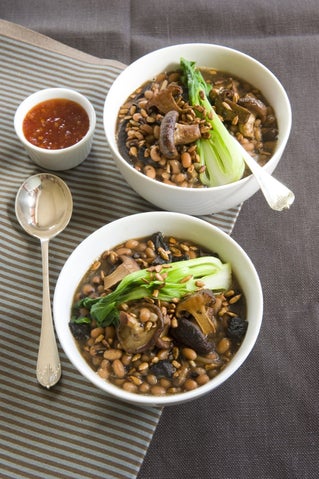 A jar of prepared Chinese barbecue sauce (char siu) transforms these beans into a sensational meal.
Ingredients
2 cups navy or black-eyed beans
1 large onion, peeled and finely diced
500 grams large mushrooms, thickly sliced
5-7cm piece fresh ginger, peeled
1-2 teaspoons minced fresh garlic
240 gram jar char siu sauce
3 cups water or vegetable stock
½ cup medium dry sherry
2 tablespoons dark soy sauce
4 bok choy
100-150 grams shittake mushrooms
Method
Soak the beans in plenty of cold water overnight. Allow 3-4 times the amount of water to beans.
Turn the slow cooker on to low to pre-warm while gathering and preparing the ingredients.
Drain the beans well and scatter into the pre-warmed slow cooker. Stir through the onion, mushrooms, ginger and garlic.
In a jug, mix together the char siu sauce, water or stock, sherry and soy sauce. Stir into the slow cooker and cover with the lid.
Cook on low for 7-8 hours or on high for 3-4 hours, or until the beans are tender, stirring once or twice during cooking if possible.
When the beans are soft, cut the bok choy in half lengthwise and stir into the beans. Cover and continue cooking while pan-frying the shiitake mushrooms.
Cut large shiitake mushrooms in half and pan-fry the mushrooms in a dash of oil until softened and lightly browned. Stir into the beans. Remove the ginger before serving the beans. Have sweet chilli sauce on the side and garnish as wished. I use crunchy tamarind-coated, roasted sunflower seeds.
Cooks Tips
Variations: - Use any preferred combination of dried beans; larger beans will require more water and the cooking time will need extending. - When pan-frying the shiitake mushrooms, finish by drizzling with a little sesame oil.