Add to Cookbook

Carrot cake with honey cream cheese icing
15 minutes
60-65 minutes
1x 20cm cake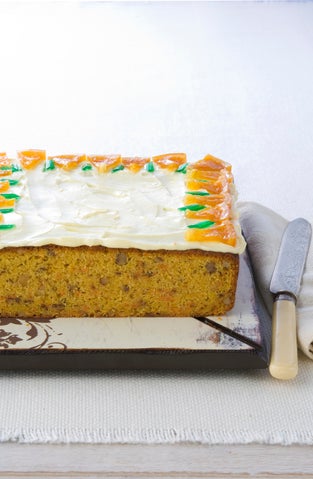 At its height of culinary fashion in the early '80s, carrot cake was de rigueur for every new cafe bar. Take a trip back in time with this - leave the shoulder pads out though!
Ingredients
225 grams butter, softened
1 cup brown sugar
4 eggs, separated
grated rind of 1 orange
1 tablespoon lemon juice
1¼ cups self-raising flour
1 teaspoon baking powder
¾ cup ground almonds
¾ cup walnuts, chopped
2 cups grated carrots
1-2 pieces angelica, sliced, optional
1-2 glace orange slices, optional
Honey cream cheese icing
250 grams cream cheese
1 tablespoon manuka honey
lemon juice
Method
Preheat the oven to 180ºC. Grease and line a 20cm cake tin with baking paper.
In a large bowl, beat the butter and sugar together until lgiht and fluffy. Beat in the egg yolks, orange rind and lemon juice.
Sift the flour and baking powder together and stir through the ground almonds and walnuts.
In a clean bowl, beat the egg whites until stiff, but not dry, fold into the dry ingredients with the carrots. Gently stir the egg white mixture into the creamed mixture. Turn into the prepared cake tin.
Bake in the preheated oven for 60-65 minutes until golden brown and well rising and a skewer inserted in the centre comes out clean.
Leave in tin for 10 minutes before turning out onto a cake rack to cool. When cold, spread with honey cream cheese icing and decorate with angelica and small wedges of the glace orange slices, if using.
Honey cream cheese icing
Warm the cream cheese for about 20-30 seconds in the microwave. Beat until smooth. Add in the honey and sufficient lemon juice to make a spreadable mixture with a subtle sharp taste.