Add to Cookbook

Carrier chicken
15 minutes
low 5-7 hours, high 3-4 hours, plus extra 15-20 minutes
5-6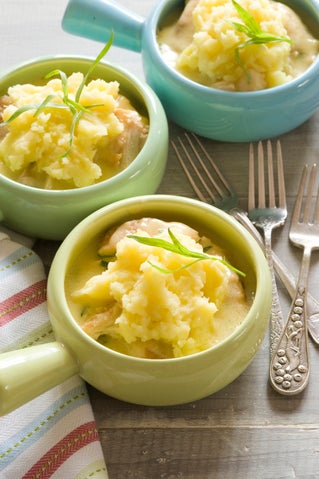 Robert Carrier was one of the earliest British celebrity chefs, hitting fame for his love of French-style cuisine in the 1970s. He loved Champagne - well who doesn't? - and this is an adaptation of a recipe from one of this books, which I was given as a budding young chef to insprie me along my way. The flavours of tarragon, mustard, chicken and cream are classics and the dish is stunning, if not a little calorific!
Ingredients
1.5-1.6 kilogram whole chicken
1 sprig fresh tarragon or ½ teaspoon dried tarragon
1 tablespoon flour
1 cup Champagne or sparkling wine
250 grams mascarpone
2 teaspoons cornflour
3-4 tablespoons prepared mild-style mustard
1 tablespoons finely chopped fresh tarragon or 1 teaspoon dried tarragon
Method
Turn the slow cooker on to low to pre-warm while gathering and preparing the ingredients.
Wash the chicken and pat dry, especially the cavity. Season the cavity with salt and pepper and place the tarragon into the centre. Tie the legs of the chicken together and twist the wings under the body of the chicken. This will help the chicken keep a good shape when cooking. Sift the flour over the chicken evenly.
Heat a good knob of butter in a heavy-based frying-pan and, when hot, brown the chicken as well as you can on all sides. Browning adds flavour and colour.
Into the pre-warmed slow cooker put the chicken and Champagne or sparkling wine and cover with the lid.
Cook on low for 5-7 hours or on high for 3-4 hours, or until the chicken is tender.
Carefully remove the chicken from the slow cooker and place on a warm serving platter. Stir the mascarpone and cornflour together and stir into the slow cooker with the mustard and second measure of tarragon. Cover with the lid and cook on high for a further 15-20 minutes until the sauce is hot.
Carve the chicken and serve with a generous spoonful of the creamy mustard and tarragon sauce. Alternatively, pull the meat from the bones and return to the sauce. Transfer to an ovenproof dish or dishes and cover with mashed potato. Bake at 180ºC until hot and golden.
Cooks Tips
- If buying fresh tarragon, make sure it is French tarragon and not Russian, which looks the same but is a wolf in sheep's clothing - it has no flavour. When out of season, use dried tarragon. It is one of the herbs that, when dried, retains its flavour well.