Add to Cookbook

Caribbean chicken stew
30 minutes
in the slow cooker low 5-7 hours, high 4-4½ hours, plus extra 20-30 minutes
6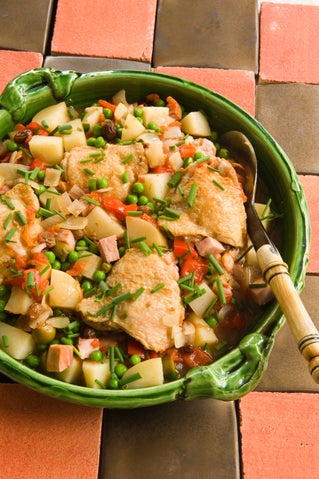 This all-in-one dish is ideal for mid-week family eating.
Ingredients
12 chicken thigh portions, bone-in
1 onion, peeled and chopped
1 red capsicum, chopped
1 teaspoon minced garlic
1 ham steak, diced
10 stuffed olives, halved
2-4 tablespoons raisins
1 tablespoon capers, well rinsed
1 bay leaf
500 grams waxy potatoes, peeled and diced
400 gram can diced tomatoes in juice
1½ cups chicken stock
1 tablespoon wine or cider vinegar
2 cups frozen peas
Method
Turn the slow cooker on to low to pre-warm while gathering and preparing the ingredients.
Heat a dash of oil in a large frying pan and, when hot, brown the chicken pieces well on all sides.
Into the pre-warmed slow cooker put the chicken pieces, onion, capsicum, garlic, ham, olives, raisins, capers and bay leaf. Scatter the potatoes over the top.
Mix together the tomatoes, stock and vinegar and pour over the chicken. Cover with the lid.
Cook on low for 5-7 hours or on high for about 4-4½ hours, or until the chicken is cooked.
Place the peas in a colander and pour boiling water over them. Scatter the peas into the slow cooker, cover with the lid and cook on high for a further 20-30 minutes, or until the peas are hot and tender.
Serve the Caribbean chicken with plenty of boiled rice.