Add to Cookbook

Cajun pork pot roast with horseradish mashed spuds
30 minutes
in the slow cooker: low 6-8 hours, high 4-5 hours, plus extra 30 minutes, resting time 30 minutes
8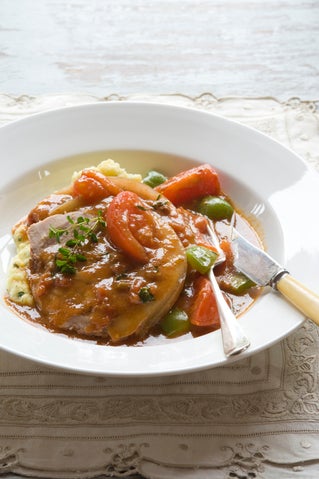 This hot and spicy pork pot roast was inspried by the flavours of New Orleans, where the three peppers, black, white and red, are always used in harmony with fresh thyme and all work so well with pork. The horseradish-infused mashed potatoes make a sensational partner.
Ingredients
3 tablespoons jalapeno peppers
2 teaspoons minced garlic
1 teaspoon sugar
1 teaspoon paprika
½ teaspoon ground white pepper
½ teaspoon ground black pepper
¼ teaspoon ground cayenne pepper
½ teaspoon dried thyme
2-2.5 kilogram boned shoulder of pork
400 gram can diced tomatoes in juice
2 onions, peeled
2 green capsicums
6 medium-sized juicy ripe tomatoes
1 teaspoon chopped fresh thyme
2-3 tablespoons light-flavoured instant gravy powder
Method
Turn the slow cooker on to low to pre-warm while gathering and preparing the ingredients.
Mix together the jalapeno peppers, garlic, sugar, paprika, white and black pepper, cayenne and thyme.
Place the pork skin-side down on a chopping board and spread the jalepeno pepper mix over the meat. Roll up and secure with string or skewers.
Put the canned tomatoes into the slow cooker and sit the pork on top. Chop the onions and capsicums into large chunks and scatter around the pork. Cover with the lid.
Cook on low for 6-8 hours or on high for 4-5 hours, or until the pork is cooked. Remove the pork from the slow cooker and set aside to rest for 30 minutes.
Cut the fresh tomatoes into thin wedges and add to the slow cooker with the thyme and gravy powder. Stir to mix evenly and cover with the lid. Cook on high for a further 30 minutes until the sauce is hot and thickened.
Serve the pork sliced over the horseradish mashed spuds with a generous serving of the sauce.
Horseradish mashed spuds
Cook 1.5 kilograms of floury potatoes (peeled and diced) in boiling salted water until tender. Drain well. Mash with ½ cup warm milk and 25-50 grams of butter, 2 tablespoons horseradish sauce and 2 tablespoons chopped fresh thyme leaves until smooth, adding more milk if required. Season if wished.
Cooks Tips
- Jalapeno peppers are plump, small, thick-skinned, green peppers that are available fresh or bottled in brine. They are moderate in their heat rating.