Add to Cookbook

Cajun chicken stew
without browning 20 minutes, with browning 30 minutes
in the slow cooker low 6-7 hours, high 3-5 hours
6-8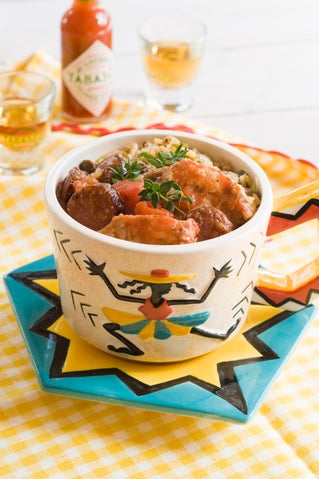 Cajun dishes nearly always begin with or contain the 'Holy Trinity'; green capsicums, onions and celery. These vegetables, along with the peppery Creole spice seasoning, form the basis of many traditional Cajun and Creole dishes. The flavours are unique and this dish would work just as well with pork.
Ingredients
8 chicken leg and thigh portions
2-4 smoked chorizo-style sausages, finely sliced
2 stalks celery, sliced
1 green capsicum, diced
1 onion, peeled and sliced
400 gram can diced tomatoes in juice
1 cup chicken stock
1 tablespoon Creole spice seasoning (see below)
1 tablespoon chopped fresh thyme
Creole spice seasoning
¼ cup flaky salt
2 tablespoons powdered garlic
1 tablespoon paprika
2 tablespoons ground black pepper
1 tablespoon ground white pepper
½ teaspoon cayenne pepper
Method
Turn the slow cooker on to low to pre-warm while gathering and preparing the ingredients.
If wishing to brown the chicken then brown the pieces in a dash of oil in a hot frying pan.
Into the pre-warmed slow cooker put the chicken, chorizo sausages, celery, capsicum, onion, tomatoes, stock, Creole spice seasoning and thyme and cover with the lid.
Cook on low for 6-7 hours or on high for 3-5 hours.
The chicken can be served in pieces or the meat pulled from the chicken portions and returned to the sauce to serve with the dirty rice (see recipe on our website).
Creole spice seasoning
Stir together the salt, garlic, paprika, black, white and cayenne pepper. Keep in an airtight container.