Add to Cookbook

Buttermilk, lemon and currant pancakes or pikelets
Makes 24 pikelets or 6 pancakes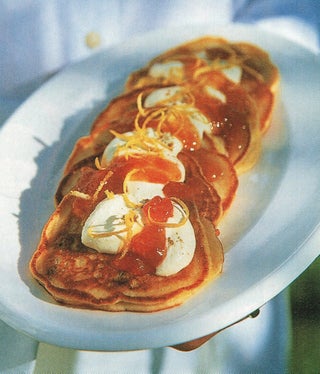 The combination of currants and lemon is one of my favourites in quick-cook batters such as pikelets. It makes them a little special. you can, of course, vary the ingredients with sultanas, raisins or dried cranberries.
Ingredients
1½ cups self-raising flour
pinch salt
¼ cup sugar
¼ cup currants
50 grams butter
3 eggs, separated
2 cups buttermilk
grated rind 2 lemons
Method
Sift flour and salt into a bowl. Stir in sugar and currants. Make a well in the centre. Melt the butter in a saucepan and cook until it turns nut-brown. Cool.
Separate the eggs and mix the yolks with the buttermilk and lemon rind.
Pour the buttermilk mixture into the well and, using a wooden spoon, stir gradually until incorporated. Stir in the melted butter.
In a clean bowl, whisk the egg whites until they form thick, soft peaks. Fold into the batter.
For pancakes, cook ¾ cupfuls of the batter in a hot, greased pan. When the bubbles begin to burst on the surface, flip the pancake and cook the other side for a further 1-2 minute.s For pikelets, cook large spoonfuls in a greased pan. The cooking time will be a little shorter than for pancakes. Serve with creme fraiche, apricot jam and a sprinkling of ground ginger or cardamom.