Add to Cookbook

Butter chicken
without browning 30 minutes, with browning 40 minutes
in the slow cooker low 6-8 hours, high 4-5 hours
preferably overnight or 4 hours minimum
6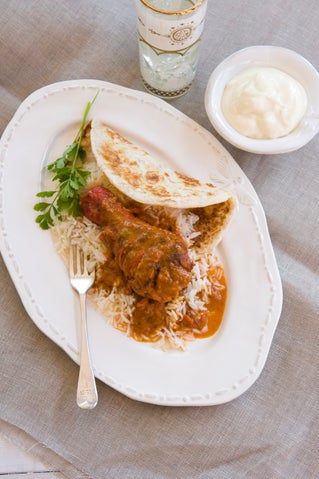 I love to make my own butter chicken as it has a much lighter texture and fresher flavours. You can taste the spices - they are not hidden under a cloyingly thick tomato puree and cream sauce.
Ingredients
12 chicken drumsticks
2 tablespoons lemon juice
½ teaspoon salt
1½ tablespoons yellow food colouring
1 tablespoon red food colouring
1 cup plain unsweetened yoghurt
½ onion, peeled, minced or finely chopped
1 tablespoon minced ginger
2 teaspoon minced garlic
1 green chilli, finely chopped
2 teaspoons garam masala
sauce
2x400 gram cans Indian spiced tomatoes
1 tablespoons shredded fresh ginger
1 teaspoon each garam masala and ground cumin
1 green chilli, diced (de-seeded if wished)
to finish
100-150 grams butter
½ cup cream
Method
Use a sharp knife to cut 2-3 deep gashes through to the bone in each chicken drumstick. Mix the lemon juice and salt together and work into the chicken.
Mix the food colourings together and use to paint each drumstick. This will give the chicken a more authentic red-colour look of tandoori chicken.
Place the chicken pieces into a lidded container in a single layer. Mix together the yoghurt, onion, ginger, garlic, chilli and garam masala, pour over the chicken pieces and turn the chicken to coat in the marinade. Cover and refrigerate overnight or for at least 4 hours.
Turn the slow cooker on to low to pre-warm while preparing the remainder of the butter chicken.
Remove the chicken from the marinade and use a pastry brush to brush off excess marinade.
If wishing to brown the chicken then heat a dash of oil in a heavy-based frying pan and when hot, brown the chicken pieces really well - only a few at a time to prevent the pieces from stewing.
Into the pre-warmed slow cooker put the chicken pieces. Mix together the sauce ingredients and pour over the chicken. Turn the pieces to coat in the sauce and cover with the lid. It may look as if there is not going to be enough sauce, but there will be once the chicken is cooked.
Cook on low for 6-8 hours or on high for 4-5 hours, or until the chicken pieces are tender.
Transfer the chicken from the slow cooker to a warm plate, cover and set aside. Add the butter and cream to the sauce and stir until the butter has melted. Return the chicken pieces to the sauce and turn to coat. If time permits, cover with the lid and cook on high for a further 30 minutes so that the sauce can reheat.
Serve with pilaf rice, naan bread and a favourite chutney.
Cooks Tips
Variation
- Use 10 lamb shoulder chops or 6 lamb shanks in place of chicken drumsticks and amend the cooking time to suit.
- If you do not wish to use food colouring, omit this step altogether. The chicken will still taste fantastic, but it won't be that authentic red colour.
- Indian-spiced tomatoes are great for this dish. If you do not have them, use two cans chopped tomatoes in juice with 1-2 tablespoons of your favourite curry powder or paste.