Add to Cookbook

Burnt mango and apple strudel with coconut and vanilla custard
6-8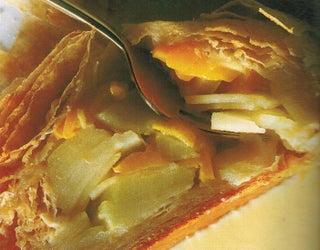 Browning the butter before brushing it on to the filo gives this fresh tasting strudel a warm, nutty flavour.
Ingredients
100 grams butter
4 cooking apples
2 fresh mangoes or a 400 gram can mangoes
2 tablespoons sugar
2 tablespoons lemon juice
10-12 sheets filo pastry
70 gram packet ground almonds
Coconut and vanilla custard
1 cup coconut cream
1 cup milk or cream
1 vanilla pod or ½ teaspoon pure vanilla essence
6 egg yolks
¼ cup sugar
Method
Heat the butter in a saucepan and cook until it turns a deep nut brown colour but isn't burnt. Remove from the heat and set aside on a damp cloth. This will stop it browning any further.
Peel, core and very finely slice the apples. Cut the mango in halves by slicing down each of the long sides by the central flat seed. Peel the skin away from each half with a knife and slice finely. Toss the apples, mangoes, sugar and lemon juice together.
Take one sheet of filo pastry and brush it with the melted butter. Place another sheet on top and brush with butter. Sprinkle over a tablespoon of the almonds. Place a third sheet on top, butter it, and then top that will another sheet of filo, but this time repeat the butter and almond process. Continue in this fashion until all the filo is used up.
Arrange the apple and mango slices lengthwise down the filo. Fold over the short edges and roll up to completely secure the filling. Place the strudel on a greased tray, seam side down. Brush liberally with butter.
Bake at 180ºC for 40 minutes until golden and the apples are cooked. Serve hot with Coconut and Vanilla custard.
Coconut and vanilla custard
Heat the coconut cream, milk and vanilla pod together until it reaches boiling point. Stand for 5 minutes.
Put the egg yolks and sugar in the top of a double boiler and mix well. Gradually pour in the milk, stirring constantly.
Cook the custard over simmering water, stirring all the time until it has thickened. Cool. Remove the vanilla pod and wash in warm water. Dry and store for re-use.
Cooks Tips
- Pure vanilla essence is more expensive than imitation but it's worth it. Imitation vanilla has a harsh taste. You can make your own supply of pure vanilla. Take one vanilla pod and split it open. Put in a jar and cover it with ¾ cup vodka. Store it tightly sealed for 4-6 months and use as required.