Add to Cookbook

Brown Sugar And Hazelnut Meringue Hearts
15 minutes
1 hour
Makes 14-16 joined meringues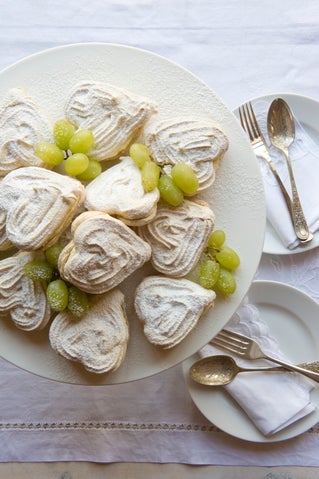 These crunchy, chewy, nutty morsels can be made 2-3 days in advance and joined with honey-sweetened mascarpone an hour or two before serving.
Ingredients
½ cup brown sugar
½ caster sugar
3 egg whites, at room temperature
pinch of cream of tartar
¼ cup finely ground roasted hazelnuts
250 grams mascarpone
2 tablespoons honey
icing sugar for dusting
Method
Preheat the oven to 120ºC. Line 2 baking trays with baking paper and mark out 5-cm wide hearts with a pencil.
Rub or stir the brown and caster sugars together to make an even mix.
Place the egg whites and cream of tartar into a scrupulously clean bowl and beat until the white forms firm, but not dry, peaks.
Add a quarter of the sugar and beat well until the sugar has dissolved. Repeat this process until al the sugar is incorporated. It should not take longer than 5 minutes.
Using a slotted spoon, fold the finely ground hazelnuts gently through the meringue mix.
Fit a piping bag with 0.5cm nozzle and fill with the meringue mixture. Pipe heart shapes onto the prepared trays and then fill in the centre of the hearts with the mixture.
Bake in the preheated oven for 1 hour or until the meringues are dry.
Change the position of the trays halfway through cooking to ensure the meringues brown evenly.
Remove from the oven, cool for 2-3 minutes before transferring the meringue hearts to a cake rack to cool. Store in an airtight container for up to 1 week. Do not freeze.
Stir together the mascarpone and honey. Join two hearts together with the honey cream and arrange on a platter. Dust with icing sugar before serving. Decorate the plate with grapes if wished.
Cooks Tips
Variations: Filling ideas - Whipped cream sweetened with sugar and liqueur - Chocolate or coffee-flavoured mousse - Vanilla, strawberry or chocolate ice cream. Serve with chocolate sauce to accompany - Substituting half the caster sugar with brown sugar will give a delicious caramel meringue. - Roast hazelnuts in a 180ºC oven for 10-12 minutes until browned. Cool before rubbing between your hands to release the skins. Chop finely when cool. - To assess whether the egg whites have reached a stiff peak, lift the beaters from the egg whites - if the foam in the bowl falls over at the top of the peak where the beaters were lifted, this is a soft peak; if the foam stays upright, it is a firm or stiff peak; and should the beaters have no foam lift up with them, they are over-beaten and dry. The resulting meringues will weep a little when baked, but they will still taste good. - If you do not have a piping bag, fill the heart shapes in with the meringue using the back of a spoon to make the shape and spread the meringue mixture out. - Mascarpone is a very rich, slightly acidic cream. If not available, use whipped cream.