Add to Cookbook

Breakfast Pork Sausages With Boston Beans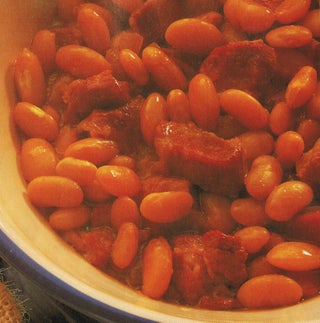 Give breakfast bangers a lift with a tasty bean sauce - it's bound to be a winner
Ingredients
500 - 600 grams small breakfast pork sausages
1 onion, peeled and chipped
1 tblsp oil
¼ cup tomato paste
½ cup cider
400 gram can tomatoes in juice, chopped
400 grams canned haricot or cannellini beans, well drained
2 tsp brown sugar
2 tsp prepared mustard (Dijon is good here)
1 tblsp chopped fresh thyme leaves
Method
Gently pan-fry the sausages for 10-12 minutes until golden and cooked through.
Pan-fry the onion in the oil until soft but not brown. Increase the heat and stir in the tomato paste and cook for 2-3 minutes. Add the cider, tomatoes in juice, beans, sugar, mustard and thyme. Stir well.
Simmer gently for 3-4 minutes. Serve the hot sausages with the beans.