Add to Cookbook

Bread and butter pudding with whisky sauce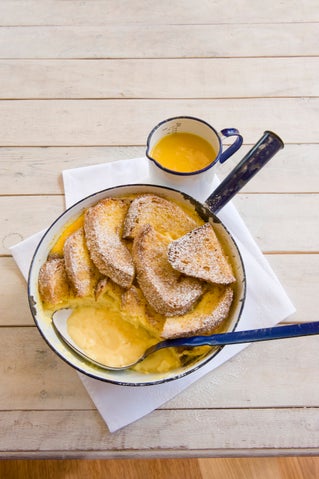 Absolute decadence! This is a great family favourite but with the whisky sauce , it will become something special. The best bread to use is a white cob loaf with hard crust from the bread shop as the bread will give the pudding better texture. If not, use thick slice bread.
Ingredients
8 thick slices white bread
2-3 tblsp softened butter
1 litre milk
6 eggs
1 cup vanilla sugar (caster is good)
Whisky Sauce
1 cup sugar
2 tblsp water
100 grams butter, softened
¼ cup whisky
2 eggs, beaten
¼-½ cup cream
Method
Preheat the oven to 180ºC. Lightly grease a large 8-cup capacity ovenproof dish.
Spread four slices of bread with the butter and make into sandwiches with the remaining four slices. Cut into chunks. Place the bread into a large bowl and pour over the milk and set aside.
Using an electric beater, beat together the eggs, sugar and vanilla essence until the mixture is quite thick and creamy. Pour into the soaked bread and stir well.
Transfer the mixture into the prepared baking dish.
Bake in the preheated oven in a water bath for 1 hour or until a knife inserted comes out clean. Stand for 10 minutes before serving warm with the whisky sauce.
Whisky sauce
Put the sugar and water into a small saucepan and heat gently stirring constantly until the sugar has dissolved. Transfer the syrup to the top of a double saucepan and stir in the whisky and beaten eggs. Cook over mildly simmering water until the sauce has thickened. Stir in the cream.
Cooks Tips
- Use a light wholemeal bread if you like. Do not use a heavy one as it will detract from the delicate flavour of the dish. Also try brioche. - Vanilla sugar can be easily made by placing a vanilla pod in a cannister of sugar. I do this with all my caster sugar. - To create a water bath also called a bain marie you will need a container that is a larger than the dish that you are cooking in. I use the roasting dish that came with the oven. Always fill the water bath up with water once you have both dishes in the oven. Do not try to carry a large open dish of water to the oven as it has a tendency to gather momentum and the water spills out. Likewise when removing the dish. Remove the dessert and allow the water bath to cool first if you can before taking it from the oven and BE careful.