Add to Cookbook

Braised oxtail (slow cooker)
without browning 30 minutes, with browning 40 minutes
low 7-8 hours, high 4-6 hours
6-8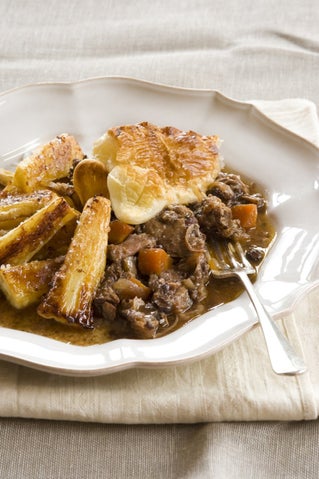 Oxtail does involve more work to cook than most other cuts, mainly because it is best to refrigerate the casserole overnight to allow the fat to set on top. This can then be lifted off. I like this richly flavoured oxtail recipe served under a fluffy-baked puff pastry pie topping with roasted parsnips.
Ingredients
about 2 kilograms meaty oxtail, cut into joints and trimmed
about ½ cup seasoned flour
2-3 tablespoons oil
2 carrots, peeled and sliced
2 large onions, peeled and chopped
¼-½ cup raisins or currants
4 teaspoons minced garlic
2 bay leaves, crushed
1 tablespoon chopped fresh thyme or ½ teaspoon dried thyme
1 teaspoon celery salt or celery seeds
2 cups red wine
1 cup port
2 tablespoons tomato paste
1 tablespoon balsamic vinegar
Method
Turn the slow cooker on to low to pre-warm while gathering and preparing the ingredients.
Toss the oxtails in the seasoned flour, shaking off the excess.
If wishing to brown the ingredients then heat a good dash of oil in a large heavy-based frying-pan and, when hot, brown the oxtail pieces well. Do this in batches to prevent the oxtail from stewing. The browner the oxtail, the more flavoursome the finished dish. Set aside. Brown the carrots and onions in any remaining oil. Add a extra dash of oil if required.
Into the pre-warmed slow cooker put the oxtail, carrots, onions, raisins or currants, garlic, bay leaves, thyme and celery salt or seeds.
In a jug stir together the red wine, port, tomato paste and balsamic vinegar. Pour into the slow cooker and stir as well as possible to mix the ingredients. Cover with the lid.
Cook on low for 7-8 hours, or on high for 4-6 hours.
Use a flat wide spoon to lift the fat off the top of the braise.
Serve the oxtail with your favourite vegetables. Alternatively, pull the meat from the bones and return to the casserole to serve.
Cooks Tips
- If time permets, chill the cooked braise overnight to allow excess fat to rise to the top and be easily lifted off. Reheat to serve. If reheating in the slow cooker, allow about 1½ hours on high. - Basic seasoned flour is prepared from plain flour with a seasoning of salt, pepper and dry mustard. A ¼ teaspoon ground cloves in the seasoned flour would go well with oxtail.