Add to Cookbook

Braised lamb knuckles in merlot with figs
30 minutes
in the slow cooker low 7-8 hours, high 4-5 hours
6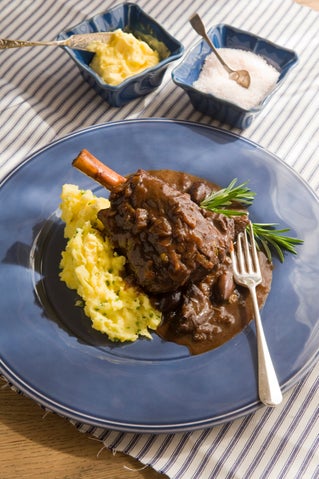 If you cook these lamb knuckles on low, there will be no need to marinate the lamb to achieve a rich, gutsy sauce. If you plan to cook the knuckles on high, then it would be best to marinate the meat in all the ingredients (except stock and tomato paste) overnight, prior to cooking.
Ingredients
6 lamb knuckles, trimmed
2 large onions, peeled and finely chopped
2 stalks celery, trimmed and finely chopped
2 cups dried figs, halved
12-20 black olives
2-4 tablespoons capers, rinsed
6 cloves garlic, crushed, peeled and sliced or 4 teaspoons minced garlic
2 tablespoons chopped fresh rosemary leaves
1 teaspoon ground black pepper
750 millilitre bottle merlot
½ cup beef stock
¼ cup tomato paste
Method
Turn the slow cooker on to low to pre-warm while gathering and preparing the ingredients.
Brown the lamb knuckles in a good dash of oil in a hot frying-pan, turning the knuckles to ensure they are evenly browned.
Into the pre-warmed slow cooker put the lamb, onions, celery, figs, olives, capers, garlic, rosemary and pepper. Mix together the wine, stock and tomato paste and pour into the slow cooker. Cover with the lid.
Cook on low for 7-8 hours or on high for 4-5 hours. Serve with creamy mashed potatoes, flavoured with a little grated Parmesan.
Note: The resulting sauce is not very thick. Should you wish to have a thicker sauce, lift out the knuckles and transfer the sauce to a saucepan. Simmer without a lid until reduced to your preferred thickness. Or, alternatively, stir in 4-6 tablespoons beurre marnie when the knuckles are cooked, cover and cook on high for a further 30 minutes unti lthe sauce is thick.
Cooks Tips
Variations: - Use 2 kilograms lean beef for casseroling in place of the lamb knuckles. - Add 3-4 slices diced bacon. - Add 250 grams button mushrooms, whole or halved. - If using hind shanks, the cooking time will be longer for the lamb so allow an extra hour's cooking time over those given here.