Add to Cookbook

Braised Lamb In Sweet Spices And Yoghurt
20 minutes
about 1 1/2 hours
6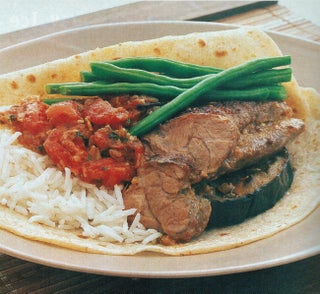 Lamb scotch filliet is a great cut. Slow cooked, the meat will almost fall apart when eaten. Try it simmered in an aromatic stock and served wrapped in fresh roti or naan bread.
Ingredients
6 lamb scotch fillets, trimmed
½ cup thick natural unsweetened yoghurt
½ tsp salt
2 tblsp lime or lemon juice
1-2 tblsp oil
2 red onion, peeled and finely chopped
5 cm piece fresh ginger, chopped
10 cloves garlic, chopped
2 tsp each coriander seeds and cumin seeds
8 whole cloves and 4 cardamoms
1 tsp chilli powder, 1 tblsp paprika, 1 blade mace (optional)
½ cup chicken or vegetable stock
2 tomatoes, blanched, peeled and diced
1 tblsp each chopped coriander and mint
salt and pepper to season
6 roti or naan breads, warmed, and thick natural unsweetened yoghurt to serve
Method
Place the lamb necks in a shallow dish. Mix the yoghurt, salt and lime or lemon juice together and spread over the lamb. Cover and refrigerate for four hours or overnight.
Heat the oil in a lidded oven-proof frying pan and cook the onion for 4-5 minutes until soft. Add the ginger, garlic, coriander, cumin seeds, whole cloves, cardamoms, chilli powder, paprika and mace and cook a further 2-3 minutes until fragrant.
Add the lamb and yoghurt to the pan and turn to coat in the spices. Pour in the stock, cover and transfer to a 140 degrees Celsius oven for 1½ - 2 hours until tender. Alternatively cook on top of the stove over a low heat for about 1 1/2 hours, stirring regularly.
Remove the lamb and bring the cooking liquid to the boil. Boil until the sauce reduces to thick paste. Add the tomatoes, coriander and mint. Season with salt and pepper.
Serve in roti or naan bread with the sauce, grilled aubergine slices, green beans, and yoghurt on the side.