Add to Cookbook

Braised duck with orange and caramelised onions
20 minutes
in the slow cooker low 5-6 hours, high 2-3 hours
6-8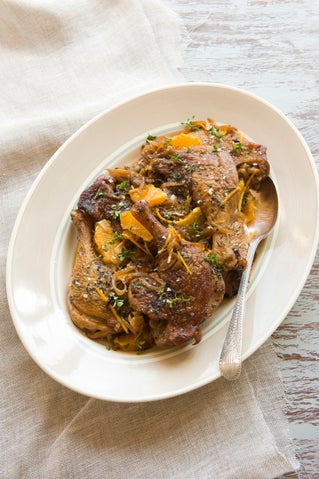 With duck I prefer to cook the breast portions, which are best cooked quickly, separately from the leg and thigh portions which are better braised or cooked slowly. Orange and thyme are classic partners as they balance the duck's richness.
Ingredients
6-8 duck leg and thigh pieces
2 large onions, peeled and thinly sliced
4 cloves garlic, crushed, peeled and sliced
2 tablespoons sugar
¼-½ cup orange marmalade
¼ cup orange juice
1 cup chicken stock
2 tablespoons chopped fresh thyme
1-2 oranges
Method
Turn the slow cooker on to low to pre-warm while gathering and preparing the ingredients.
Heat a dash of oil in a frying-pan and, when very hot, place the duck pieces into the pan, skin-side down to brown very well. Turn once and transfer to the pre-warmed slow cooker.
Drain most of the fat from the pan, leaving about 3 tablespoons. Add the onions and cook over a moderately high heat for 12-15 minutes, until the onions are well browned but not burnt. Stir regularly to prevent the onions from burning.
Add the garlic to the pan and cook only for a minute. Stir in the sugar and, when the sugar has melted, add the onions to the slow cooker.
Mix together the marmalade, orange juice, stock and thyme and pour over the duck. Cover with the lid.
Cook on low for 5-6 hours, or on high for 2-3 hours, without lifting the lid.
To serve, grate the rind from the oranges with a zester or coarse grater and reserve. Use a sharp knife to cut away all the bitter white pith. Cut the orange into pieces. Add the orange rind and flesh. Season the duck with salt and pepper and extra fresh thyme if wished before serving. Mashed kumara makes an excellent accompaniement to the duck.
Cooks Tips
Variations: - Use red onions for a sweeter onion flavour. - Add 3-4 crushed juniper berries; they are great with game or rich meats. - For an Asian influence, add 2-3 star anise. - Replace ¼ cup stock with ¼ cup port or Madeira. - Add 1-2 diced bacon steaks or rashers to the onions when browning. - The finished sauce will be nicer if you remove the fat before serving. To do this easily, lift the cooked duck from the slow cooker and transfer to a warm plate. Cover and keep warm. Strain the cooking juices from the onions into a gravy separator and pour the fat-free juices back into the slow cooker or serving dish, leaving the fat behind at the bottom of the fat separator. - Keep the fat in the fridge and use to roast potatoes - delicious!