Add to Cookbook

Bolognaise mince
without browning 20 minutes, with browning 40 minutes
low 4-5 hours, high 2-3 hours
8-10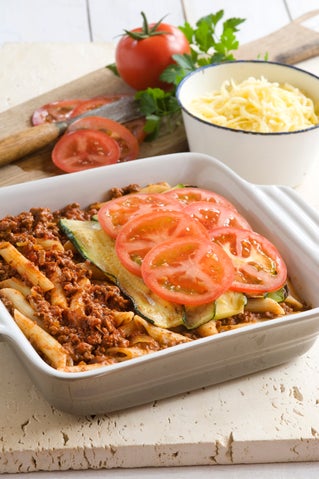 I like to prepare a good-sized quantity of this mince to have on hand in the freezer for those mid-week meals. A basic recipe can so easily be varied too, just jazz it up to suit your family.
Ingredients
1 kilogram lean beef mince
1-2 onions, peeled and finely diced
1-2 teaspoons minced garlic
¼ cup instant gravy powder
1 cup water or red wine
½ cup tomato paste
2x 400 gram cans diced tomatoes in juice
1 teaspoon dried thyme
1 teaspoon dried oregano
Method
Turn the slow cooker on to pre-warm while gathering and preparing the ingredients.
If wishing to brown the ingredients then heat a dash of oil in a frying pan and brown the mince well in batches, breaking up with the back of a spoon as it browns. Add a dash more oil to the frying-pan and cook the onion for 10 minutes over a moderate heat until browned and softened. Add the garlic and cook a further minute.
Into the pre-warmed slow cooker put the mince, onion and garlic.
In a jug, mix together the instant gravy powder to a smooth paste with the water or red wine, before adding the tomato paste, tomatoes, thyme and oregano.
Stir into the beef mince and cover with the lid.
Cook on low for 4-5 hours or on high for 2-3 hours. Season with salt and pepper before serving.
Serve tossed through spaghetti or use as the base for a pie or mixed with pasta and turned into a favourite pasta bake.
Any leftover mince will freeze well in an airtight container. Use within 6 months.
Cooks Tips
Variations: - Use flavoured canned tomatoes. - Add 3-4 finely diced and crispy cooked rashers of bacon. - Add 100 grams of shredded salami - Add more garlic, or stir in the pulp of one roasted garlic bulb at the end of cooking time. - Use an instant gravy powder that goes well with beef.