Add to Cookbook

Boiling bacon with lentils and apples
20 minutes
low 5-7 hours, high 3-4 hours
6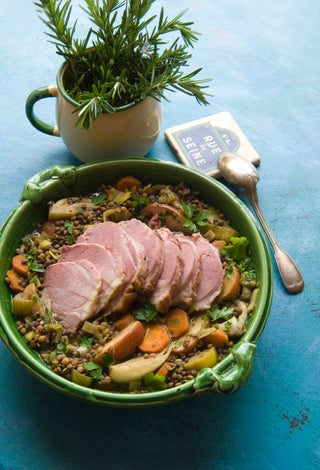 An uncomplicated dish, rich in flavour from the slow cooking of boiling bacon, with pantry staple ingredients like apples, golden syrup and dried herbs.
Ingredients
2 cups green or brown lentils
3-4 smallish fennel bulbs, quartered
2 carrots, peeled and sliced
2 red apples, peeled and thickly sliced
1 onion, peeled and diced
1 teaspoon dried sage
3 cups chicken stock
2 tablespoons golden syrup
1-1.25 kilogram piece boiling bacon
Method
Turn the slow cooker on to low to pre-warm while preparing the ingredients.
Put the lentils, fennel, carrots, apples, onion, sage, stock and golden syrup into the pre-warmed slow cooker and stir to mix the ingredients evenly.
Sit the bacon on top and cover with the lid.
Cook on low for 5-7 hours or on high for 3-4 hours, or until the lentils are tender.
Serve the bacon thickly sliced with a hearty serving of the lentils and vegetables, garnished with parsley if wished.
Cooks Tips
Dried sage works well in slow cooking. It's a good accompaniment to starches like pulses and breads and works with pork or duck. Variations: - Use dried rosemary, thyme or oregano in place of sage. - Add 1-2 sliced chorizo-style sausages. - Add the pared rind of an orange with 1 teaspoon chopped green peppercorns. - For a touch of spice, add 1 teaspoon curry powder. - Use pears in place of apples.