Add to Cookbook

Bobotie - slow cooker method
20 minutes
low 6-7 hours, high 3-4 hours, plus 1 hour extra if including custard
8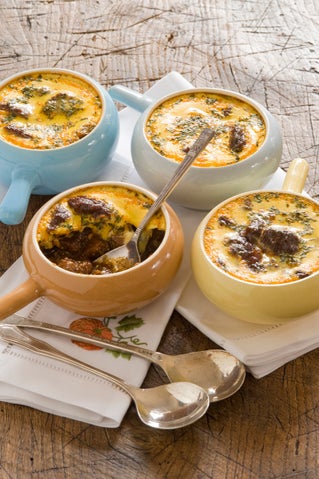 This traditional South African dish combines finely diced beef in a rich sweet and sour sauce under a canopy of egg and milk custard. It's great in summer served with a crisp salad, or on cooler nights with mashed pumpkin or kumara.
Ingredients
1 kilogram lean beef for casseroling
2 onions, peeled and finely chopped
2 tablespoons brown sugar
2 tablespoons South African-style braai 'n' grill spice blend
2 teaspoons ground ginger
2 teaspoons curry powder
1 cup raisins or sultanas
1 cup spicy fruit-style chutney
¼ cup Worcestershire sauce
¼ cup tomato paste
½ cup beef stock
Custard
1½ cups milk
4 eggs
1 tablespoon fresh thyme leaves
Method
Turn the slow cooker on to warm while gathering and preparing the ingredients.
Cut the beef into small 1-1.5cm dice.
Heat a good dash of oil in a large frying pan, brown the meat and onions. Cook the onion for 3-4 minutes until it begins to soften. Add the brown sugar, spice blend, ginger and curry powder; continue to cook for a further 2-3 minutes until fragrant.
Into the slow cooker put the beef, onions, brown sugar, spice blend, ginger, curry powder, dried fruit, chutney, Worcestershire sauce, tomato paste and stock. Stir well to mix the ingredients evenly and cover with the lid.
Cook on low for 6-7 hours or on high for 3-4 hours.
To cover with the custard, beat the milk, eggs and thyme together and carefully pour over the bobotie in the slow cooker and cover with the lid. Cook on high power for an extra hour or until the custard has set.
Alternatively, transfer the meat to a large 8-cup capacity ovenproof dish and pour the egg mixture on top. Bake in a 180ºC oven for 30-35 mintues or until the custard has set. The dish can also be presented in smaller individual serving-sized dishes. Baking time will be a few minutes less.
Cooks Tips
Variations - Use lamb in place of beef. - Use curry paste in place of powder and double the amount for a spicier bobotie. - Braai is a barbecue in South Africa, so the spice blend or mix is a general seasoning used for red meats, pork and chicken. If you cannot find any South African brands in the international section of the sumpermarket, use another favourite barbecue-style seasoning mix. - The chutney you use will also vary the flavour of the finished dish. Look for one that includes dried fruits for an authentic bobotie.