Add to Cookbook

Blueberry pie
20 minutes
30 minutes, cooling time: 20 minutes (optional)
6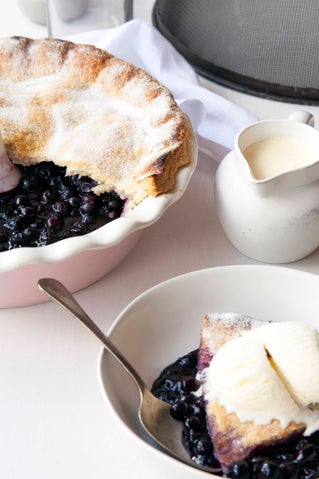 This lard-based pastry is tender and light; lard is almost tasteless so allows the fruit to take centre stage. No lard? Use butter.
Ingredients
Pastry
2 cups flour
½ teaspoon baking powder
½ teaspoon salt
125 grams lard, diced
2-3 tablespoons ice-cold water
Filling
500 grams fresh or frozen blueberries, defrosted
½ cup blueberry jam
1 tablespoon cornflour
beaten egg or milk to glaze
1 tablespoon sugar for sprinkling
Method
Preheat the oven to 200ºC. Lightly grease a 23cm shallow, round pie dish. Set the oven rack in the centre or just below.
Pulse the flour, baking powder, salt and lard together in a food processor until the mixture makes coarse crumbs. Pulse in sufficient water to make small, moist balls of dough. Turn out, bring together and if time permits, wrap in plastic wrap and refrigerate for 20 minutes.
Divide the dough in half. Roll one half out to line the base and sides of the prepared dish. Brush the pastry edge with beaten egg or milk. Stir the blueberry jam and cornflour together and toss with the blueberries. Pile into the centre. Sit a pie funnel in the centre.
Roll the remaining pastry out to cover the top of the pie dish. Roll over and pinch the edges together. Brush with beaten egg or milk to glaze and sprinkle with the sugar.
Bake inthe preheated oven for 25-30 minutes or until the pastry is golden and cooked and the filling hot. Serve with vanilla ice cream and cream.