Add to Cookbook

Black bean and garlic pork braise
15 minutes
in the slow cooker low: 8-9 hours, high 4-5 hours, plus extra 30 minutes
10-12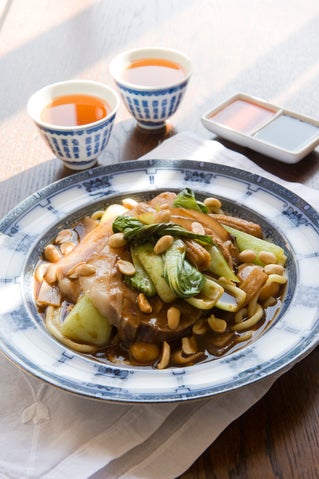 A boned well-marbled pork shoulder will cook to perfection in a slow cooker and will tolerate being left longer than planned. Any leftover cold meat has a delicious flavour, imparted from the braising sauce.
Ingredients
2 kilograms boned shoulder of pork, skin scored
¾ cup chicken stock or water
½ cup black bean and garlic sauce
¼ cup mirin
5 cm piece fresh ginger, peeled and sliced
3 whole star anise
2 teaspoons cornflour
1 tablespoon sherry or water
400 gram can whole baby corn, well drained
227 gram can water chestnuts, well drained
227 gram can bamboo shoots, well drained
4 bok choy, halved lengthwise
Method
Turn the slow cooker on to low to pre-warm while gathering and preparing the ingredients.
Tie the pork together to ensure it cooks evenly and keeps a good shape while cooking.
Mix together the stock or water, black bean and garlic sauce and mirin and pour into the pre-warmed slow cooker. Sit the pork on top, scatter in the ginger and star anise and cover with the lid.
Cook on low for 8-9 hours or on high for 4-5 hours, or until the pork is tender.
If you have a meat thermometer, pork is cooked when the thermometer reaches 71ºC.
Remove the pork from the slow cooker, place on a warm plate and cover with foil. Allow the pork to rest before carving and hwile finishing the dish. Turn the slow cooker to high.
Mix the cornflour with the sherry or water and stir into the cooking liquid in the slow cooker.
Add the baby corn, chestnuts, bamboo shoots and bok choy and stir well. Cover and cook for a further 30 minutes.
Cut the pork into generous slices and serve over your favourite Asian noodles with a serving of the black bean sauce and vegetables. Garnish with peanuts if wished, before serving.
Cooks Tips
- Having the pork scored will make carving easier.
- Mirin is often referred to as a rice wine. It is brewed from rice rather than fermented and is used for cooking and not drinking, to impart a unique flavour to glazes and sauces. Sherry can be substituted.