Add to Cookbook

Bengali beef and onions
marinating time: overnight, without browning: 15 minutes, with browning: 30 minutes
low 6-7 hours, high 3-4 hours
6-8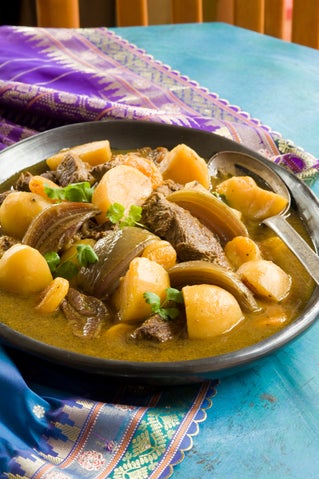 An adaptation from one of my favourite food writers, Madhur Jaffrey. Her books on regional Indian cookery are my favourite travel guides whenever I visit this colourful and exotic country. This dish should have penty of thin flavoursome sauce, perfect for mopping up with warm naan bread.
Ingredients
1 kilogram lean beef for casseroling
1½ teaspoons ground turneric
1½ teaspoons ground coriander
1 teaspoon ground cumin
½ teaspoon chilli powder
1 tablespoon minced ginger
1 teaspoon minced garlic
¼ cup oil
4 large waxy potatoes, peeled and cut into large pieces
3 red onions, peeled and thickly sliced
3 cups beef stock or water
1 bay leaf, optional
1 cup dried plump apricots
1 teaspoon garam masala
Method
Cut the beef into large, chunky 4cm sized pieces and place in a lidded container.
Sprinkle over the turmeric, coriander, cumin, chilli powder, ginger and garlic and pour over the oil. Rub well to coat the beef with the spice mix, cover and refrigerate overnight to marinate the beef.
Turn the slow cooker on to low to pre-warm while gathering and preparing the remaining ingredients.
If wishing to brown the ingredients then heat a dash of oil in a large frying-pan and brown the beef well in batches, adding more oil if necessary. The beef and spices will have soaked up the oil used in the marinade, so more oil will be required.
Place the beef into the pre-warmed slow cooker and scatter over the potatoes and onions.
Pour in the stock or water and add the bay leaf if using. Cover with the lid.
Cook on low for 6-7 hours or on high for 3-4 hours, until the meat and vegetables are tender.
Add the apricots and garam masala and season with salt and pepper and a pinch of sugar before serving.
Cooks Tips
- For a sweeter-style garam masala, delicious with this dish, grind 1 cinnamon stick, 12 whole cardamoms and 10-12 whole cloves together in a mortar and pestle or mini food mill. Alternatively, use ground spices. - Use the plump Turkish apricots here, as they are less acidic in flavour. Variations: - Add large chunks of peeled apple or pears to add a little sweetness. - Use curry powder in place of the spice. It will be less authentic in flavour, but will still taste great. - Vary the vegetables, using kumara or parsnips to replace the potatoes. - Add 2-3 ripe chunky diced juicy tomatoes about 30 minutes before serving.